The Darkest Minds Competition
Enter the competition
Enter the competition to be in to win one of 5 prizes of a double pass to see the movie as well as a copy of the book!
About the movie
In a world where adults have imprisoned everyone under 18, declaring them a threat due to their newly developed "abilities", one brave young woman must team up with a small group of teen rebels to search for a safe haven and fight to reclaim control of their futures. The ones who changed will change everything. See the epic adventure, The Darkest Minds, in cinemas August 16.
Rated M-violence. Watch the trailer

Terms and Conditions. Competition closes 15 August 2018.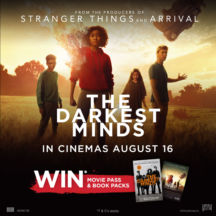 Question