Catering & Entertainment
On weekends, school and public holidays we have lots of exciting entertainment at Rainbow's End. From magic shows to the fun dancing of Crayola Party time, there's always something great to look forward to and new things to see!
CATERING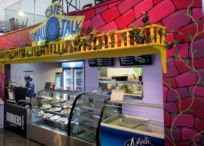 We have a full catering team at Rainbow's End who can provide just the right menu for your visit.
Our catering options for each type of group are below and we also have food outlets in the park for individual purchases.

1. Catering for business Functions
We have a great range of meal options for your function. Email for our latest menu or ask us to create something specific for your group. A mouth-watering selection of food is available throughout the park from a number of outlets, everything from café cooking to candyfloss. A range of "Tip Top" iced confectionery is also available. Please discuss catering options and pricing with a coordinator. Catering for functions must be confirmed 3 weeks before your visit.
2. Birthday Room Package - Kids meals
Included in our birthday room package are meals for the children in the party group. Each child receives their own meal in an individual meal box. You are welcome to choose a different meal for each child or the same menu for the whole party. Each meal also includes one of our drink choices.
MEAL CHOICES
Chicken or salad wrap with fruit jelly pouch
(5" wrap)
Club sandwiches with fruit jelly pouch
(ham and cheese or salad sandwiches)
Chicken pizza with hot chips
Vegetarian pizza with hot chips
Cheese pizza with hot chips
Chicken nuggets with hot chips
Fish bites with hot chips
Mini battered hot dogs with hot chips
Vegetable samosas and spring rolls with hot chips
Hotcakes with syrups and cream*
DRINK CHOICES
Keri juice
Sprite
Pump bottled water
Each child will receive their own meal delivered to your birthday room within the first 15 minutes of your party session. If a child in your group has any dietary requirements please let us know when you make your booking and we would be happy to check ingredients for you.
Please make sure you have confirmed your meal options with our coordinator at least two working days before your party on 092622030 or by email. If confirmation is not received by this time then you will be booked for our chicken nuggets option. Final payment will include meals which have been confirmed in advance and this cannot be altered on the day. Not all meal choices are available in cases of late confirmation.
*Our hotcake option is especially for birthday parties booked in the morning from 10:15am to 10:45am and in the afternoon from 2:45pm to 3:15pm.
3. Birthday Room Package - Adult catering
For adults in the group we also offer some catering great options which can be added to your party.
| | |
| --- | --- |
| Bowl of fries | $15 |
| Wedges with sour cream | $15 |
| Vegetarian hot food platter(vegetable spring rolls and samosas) 120 piece | $30 |
| Wraps platter(chicken or vegetarian) 30 sliced pieces | $50 |
| Mixed hot food platter(chicken nuggets, battered mini hot dogs, fish bites) 54 pieces | $50 |
| Club sandwich platter28 sandwiches (vegetarian option available) | $60 |
| Mixed savouries (mini mince and potato top pies, quiche, sausage rolls) 30 pieces | $60 |

Most of our platter options are served on cardboard platters so you are able to take any leftovers into the park with you.
Please contact our birthday coordinator on 09 262 2030 if you would like to add any of these to your booking. Orders must be received at least two working days before the date of your party. Final payment will include catering which has been confirmed in advance and this cannot be altered on the day.
Prices are subject to change without notice, catering options are subject to availability.
3. Birthday Cakes
To make your party that extra bit special we have Rainbow's End birthday cakes.
Our cakes are available in two sizes and can be delivered to your room if you have a Kidz Kingdom birthday package. For those who have chosen one of our other packages, we can arrange for a cake to be waiting for you at our café on the day of your visit.

SMALL CAKE
Size: 17cm
Weight: 800g
Price: $38
LARGE CAKE
Size: 26cm
Weight: 2kg
Price: $50
Call our Birthday Coordinator on 09 262 2030 to order your cake today or contact us for more information. Please order your cake at least four working days before your party. Don't forget your candles, plates and lighters!
Entertainment
Rainbow's End provides entertainment on weekends, school and public holidays. Please see below for a list of shows which everyone at Rainbow's End and Kidz Kingdom on these days is invited to enjoy.
If you are planning a group visit or party we can also organise lolly scrambles or other entertainment just for your group so please contact us for more details.
1. Shows
Term 3, 2019

Centre Stage Entertainment
Rai n Bow Show - Rai n Bow have taken over the stage! Don't miss the singing, dancing and fun! Centre Stage 12:00pm
Crayola Party Time - Be part of the party for the chance to win Crayola prizes and take part in the free giant lolly scramble. Centre stage 12:30pm
Rai n Bow Show - Rai n Bow have taken over the stage! Don't miss the singing, dancing and fun! Centre Stage 2:00pm (second show)
Centre Court Carnival - We bring together your favourite Rainbow's End characters as we celebrate the fantastic day we have had at Rainbow's End! It's a celebration like no other; you won't want to miss out! Centre stage 2:30pm
Kidz Kingdom Entertainment
Disco and Story Time - Bring your best dance moves for the Kidz Kingdom disco! And then settle in to listen to a story about a magical world in story time. Kidz Kingdom Dixie Chicken stage 1:45pm
Click here for our Spooky School Holidays Entertainment Schedule.
2. Park Characters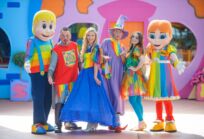 Our park residents stroll through the park during the day on weekends and holidays to entertain and have fun with the kids.
Feel free to take photos with our characters to take memories home with you.