Conferences & Meetings
Rainbow's End has the ideal venue for your next conference - what better place to incorporate fun into your meeting than to hold it at a theme park!
Our conference facilities are located in our quiet corporate building and away from the screams of thrill seekers.
Conference Room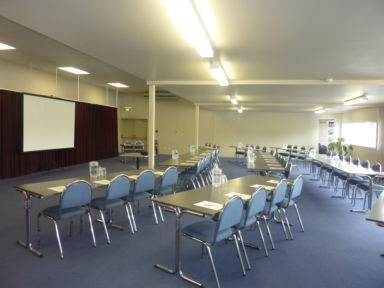 Our large conference room offers theatre style seating for 70 people and other configurations for classroom, boardroom or banquet style as needed.
We can also organise refreshments, catering and teambuilding activities for your group.
Venue Catering & Equipment
Rainbow's End can cater for small or large corporate events, business and team meetings, training seminars, presentations, and product launches. We have a fantastic catering team on site and can tailor a menu to suit your requirements.
Audio visual equipment from projectors, screens, whiteboards and PA systems are also available.
Convenient Location
Rainbow's End is situated in the heart of Manukau City, in close proximity to the motorway and only a mere 15 minutes from Auckland Airport and 20 minutes from Auckland City centre. Parking is free and only steps away from our facilities.
Team Building
Boost employee motivation, improve communication and teamwork, break down barriers and create a sense of unity! Team building activities are a great addition to any conference or meeting, especially one held at a theme park!
Contact our coordinator for further information or bookings on 09 261 0420 or via email.