Enjoy private playtime with our exclusive hire packages, perfect for team building, Xmas parties, celebrations and social clubs. Playlab Café offers a premium meeting space to kick off or close out a truly awesome day.
The Ultimate Team Experience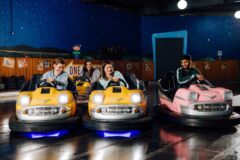 Rainbow Playlab has a range of exhilarating gaming challenges that test agility, speed, courage, team work & problem solving, in the most fun way possible.

Our staff will guide your groups through every experience.

For team building we break groups into teams and offer competition formats across all Playlab activities except for the arcade (Dodgems basketball tournaments are addictive!) . Leaderboard score tracking can make for lively end of day awards sessions!

Spaces are limited so we recommend booking early, especially for popular times such as Summer, Christmas, and common financial year ends.

Exciting Meetings
Our Playlab Café meeting space is perfect for working meetings for up to 30, or seated presentations for up to 60 people.
The Playlab Kitchen offers a variety of catering options, and is licensed for end of day drinks.
Playlab meeting zone is available between 8am and 4pm, Monday to Friday.
DID YOU KNOW…
Rainbow's End Main park has a wide range of Corporate and group options – you're spoiled for choice!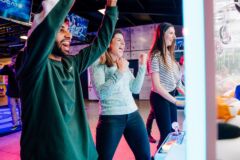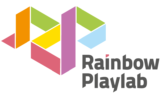 Corporate Packages at Rainbow Playlab
---
Minimum Group Size: 16+ Maximum Group Size: 40*
*Larger groups can be accommodated with more informal play – please contact us to discuss.

---
Access Duration: Between 2-4 hours, dependent on group size

Exclusive Access Timings:
8am - 2pm weekdays, or part thereof
7pm - 10.30pm evenings, or part thereof.
---
Pricing:

Rainbow Playlab Experience:
16-35 players $60.87 (exc). per head
36 + players $54.78 (exc). per head
Playlab Meeting Zone:
8am – 12pm Mon-Fri $300 exc.
8am – 4pm Mon-Fri $550 exc.

---
Meeting Zone is free with any catered Rainbow Playlab Experience for 36 players or more.

Catering: Menu & Price on application

Have questions?
Check out our FAQ page, or contact us.
Phone: 092622030
Email: [email protected]

Rules of good gaming at Playlab
•No swearing or shouting – no matter how heated the play gets!
•Drinks & snacks in the café zone only
•No photos in the Escape Room
Want to discuss your function?
Enter your contact details below and we'll get in touch to talk about your requirements and book a date that works for you.