Playlab Birthday Parties
Rainbow Playlab is the perfect gift and birthday spot for preteens, teens, avid gamers and puzzlers.
Depending on your group, additional times may be available outside of standard centre hours – like weekend mornings. Contact us to discuss.

Ages
Our birthday packages are designed for ages 8-16 years.
Photos
All birthday bookings get a digital photo to keep of their birthday. If you're taking some of your own we recommend a photo taken with flash in front of the E-Sports feature wall and watch it transform!
Catering
Our onsite cafe has a great selection of ready to go and made to order meal options. We're happy to reserve a cafe table for your group, just let us know when you're booking.
Only Playlab Cafe food can be consumed in Playlab cafe, however you are welcome to bring in a birthday cake.
E-Sports Birthdays
Book a minimum of 9 paying players and the birthday child plays for free.

We stream the latest and best games, with new games coming all the time.
Age Appropriate Gaming
While we recommend E-Sports for ages 8 and up, we do utilize gaming certification to define what games are visible to players at log in. For example, if your group are aged 13-14, games certified for ages 15+ won't be visible to them.
Fortnite is recommended for ages 12 and up. We acknowledge that the game has a loyal, younger following, but we will need guardian permission to unlock Fortnite for any birthday groups under 12.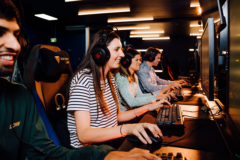 PLAY DURATION
PRICE
30 Mins
$7.00
50 Mins

$10.00
110 Mins

$18.00
Day Play
(up to 6 hours play, must be completed in one day session).
$39.00

Maximum of 20 players in booking

Pricing: Dependent on duration of gaming time. Send an enquiry
Time traveller escape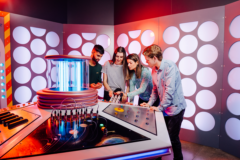 Book minimum 6 paying players and the birthday child plays free.
The Time Traveller Escape is an exciting, immersive experience with some quite challenging puzzles.
Adult PARTICIPATION & SUPERVISION
We recommend a good spread of ages, or at least one adult participant for birthday groups aged 11 and under.
The escape experience plays across two reasonably small rooms, so we cap bookings at 8 to give everybody ample room to move and solve puzzles. We can make exceptions for younger groups where an adult guardian is recommended.
| Difficulty Level | 1-3 People | 4 People | 5-8 People |
| --- | --- | --- | --- |
| Hard (approx 60 mins) | $33.00 | $29.00 | $25.00 |
| Medium (approx 40 mins) | $30.00 | $27.00 | $23.00 |
| Easy (approx 20 mins) | $27.00 | $25.00 | $21.00 |
Maximum of 8 players in booking (exceptions made for younger groups with a guardian). Pricing: Dependent on size of group, and difficulty level selected. Send an enquiry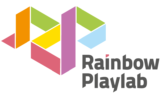 Birthdays at Rainbow Playlab

Open 7 days
Out of hours times may be available by group appointment.
Have questions? Check out our FAQ page, or contact us.
Phone: 092622030
Email: [email protected]

Rules of good gaming at Playlab

•No bags (lockers on site)
•No swearing or shouting – no matter how heated the play gets!
•Drinks & snacks in the café zone only
•No unaccompanied minors