Covid-19 Frequently Asked Questions

This page is updated to reflect the most frequently asked questions at the current level. Please check out our Level pages to see details of our park procedures at each stage (currently Level 4) , or give our team a call on 09-262 2030.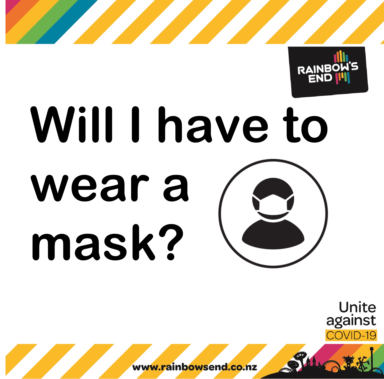 Watch this space!
Our procedures are in line with Government instruction, and previously that was guests are encouraged to wear a mask, but it's not mandated.
However, you'll notice from the current press conferences that masks are playing a stronger role in managing the Delta variant, so Ministry of Health guidance for masks in Public Venues may change before we reopen.
All Rainbow's End staff will be wearing masks at Levels 2 and 2.5, or at any stage where Ministry of Health advises us to do so.
---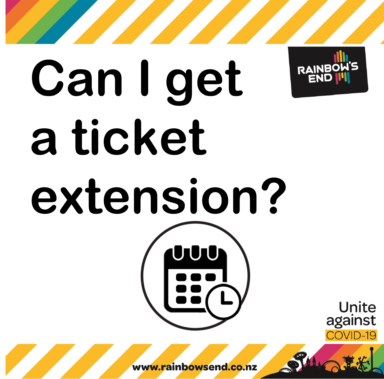 PARTY/EVENT EXTENSIONS:
You may be able to reschedule to a future date, as long as your booking can be adapted to meet Ministry of Health group size requirements for the reopen Level (Level 2 Group restrictions can range from 10 to 100).
You an also cancel your Lockdown impacted booking and receive a full refund of your desposit. Refund requests should be directed to our event co-ordinators:
Birthday Bookings : Contact Gabi at [email protected]; Day/Night Groups: Contact Dayna at [email protected]
GENERAL TICKET EXTENSIONS
Online Tickets purchased directly from Rainbow's End can be used up to 30 days from the booking date. You may also cancel your Lockdown impacted ticket and receive a refund. Contact [email protected], including the booking reference number.
LIMITED TIME PROMOTION EXTENSIONS - SUCH AS GRAB ONE
No further extensions are available due to the time of year.
At Level 2.5 and 2, we reopen with significantly reduced capacity (about 40% of normal). If we reopen at Level 2 in peak trading (October to January), then advance bookings in place will take nearly all available Level 2 capacity. In these instances, further extensions to earlier promotional tickets will be impossible.
If you are unable to visit within the terms of your coupon deal, we are happy to approve a refund with GrabOne. As the purchase began with them, the refund process must begin with them also. Contact [email protected]
---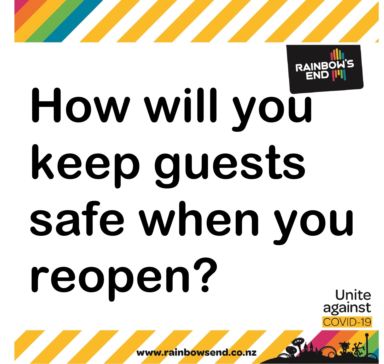 We are committed to doing our part to keep our team, guests and community safe from Covid-19 and the Delta strain.
Our plans are driven by hygiene recommendations from the Ministry of Health for Public Venues.
We understand that things can change quickly within Levels, and we constantly moniter and adjust our plans to ensure we're doing the best we can for our community.
We expect to reopen at Level 2 and this currently means:
Contract tracing at park entry, with tracer code visibility at ride entrances to remind.
Regular cleaning of all touchpoints, followed by application of hospital grade disinfectant on play surfaces.
Paywave for contactless transactions
Multiple and mandatory hand sanitiser spots throughout the park.
All rides and games disinfected between guests
Seat gaps between bubbles
Restricted numbers (this can vary according to current Government manadate)
We understand Delta is more virulent, and that may mean more safety measures when we reopen.
We will continue to review and adjust our plans based on the latest direction from the Ministry of Health.
All measures are helped by most of our attractions being outdoors across 7 acres.
---