Covid-19 Frequently Asked Questions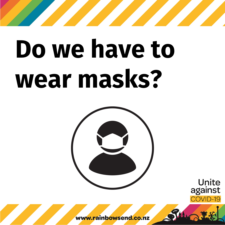 No. Our procedures are in line with Government instruction, and that is guests are encouraged to wear a mask, but it's not mandated.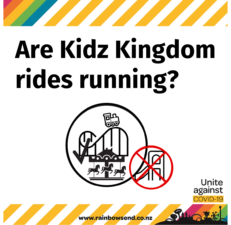 Yes. All KIdz Kingdom rides are running.  
The only facilities that aren't  operating  are the inside hands-on play structures (Tiny Tots, Fortress of Fun and Ball Blasters).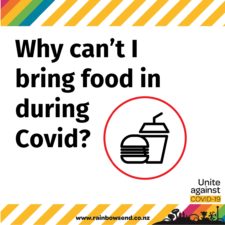 This is an everyday business rule that applies to homemade and commercial food. We're calling it out specifically through Covid as at some levels our no exit and re-entry policy means if you leave to eat elsewhere or enjoy food from home,  you won't be able to get back in.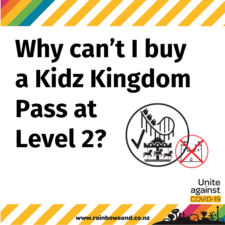 At Level 2 we have restrictions how many people can be in different  park zones at one time.
Kidz Kingdom is a defined zone  within park, capped at 100 visitors. This restriction means we only have capacity in Level 2 to provide access for existing tickets in market, and meet ticket conditions  for Child Superpasses ( which can access Kidz Kingdom if they're under 8 under the terms of their ticket)
In addition, Kidz Kingdom tickets are often sold with 2 or more Spectators. Kids do need to be supervised but we also need to reduce risks associated with standing clusters in Level 2, especially in this small undercover zone. Restricting numbers and ticket types helps us to minimize this risk. 
If you are concerned by these restrictions,  we encourage you to come back to see us at Level 1.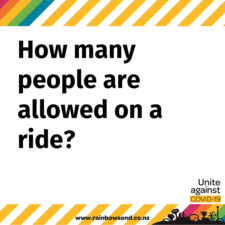 The amount of people on a ride depends on how many people can be loaded while maintaining the required physical distancing between bubbles.
All of our Front Gate, Ride Zone, and Ride loading and capacity protocols are dictated by experts from the Ministry of Health, plus   Government mandates for Public Venues at the current level.
Some rides have more distancing than is required due to advanced security settings on seats, such as the Stratosfear. In those instances not only are bubbles distanced appropriately, the people within a bubble are distanced by seats between them.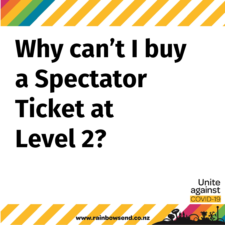 At Level 2 the park has been sectioned into zones to meet  Ministry of Health Level 2 Public Venue requirements.
Each zone has restrictions on how many guests can be in  zone at one time. It is also recommended that when guests are in each zone, they are moving through to participate in the attraction, and not to linger longer than needed to reduce standing group risks.  
With these requirements in mind, at Level 2 access is for riders only, no Spectator tickets.
If you prefer  to visit with Spectators, we recommend holding your visit until Level 1, when all ticket types will become available again (assuming that Government mandates for Level 1 remain as they are currently). 
If you already have a ticket from before lock down and another date is't an option, please visit  Covid-19 Existing Ticket Holders to see what options are available for your ticket (including refund information).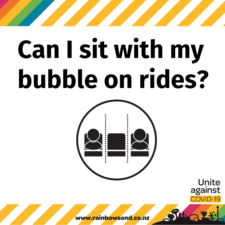 We let bubbles to sit together as much as possible, but it comes down to the security mechanisms on the ride. 
You should be able to ride together in carriages like Gold Rush, Log Flume or Dodgems. On rides with advanced security mechanisms like the Stratosfear,  the seats need to be locked off in advance,  so there will be a seat between you.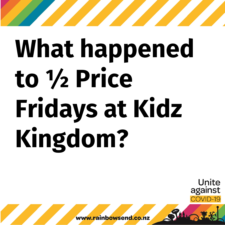 This promotion was scheduled to run July 31st to September 25th, subject to availability, and  was advertised before we knew a lockdown was coming, followed by massive Zone restrictions mandated by the Ministry of Health for Public Venues.

The tickets we had already sold for both this promotion and other tickets that can enter the Kidz Kingdom zone put us at the capacity we are allowed in the Kidz Kingdom zone under current regulations and rules for Public Venues at Level 2.  That's why no Kidz Kingdom tickets are being sold currently.  

 We are honouring any tickets already purchased for this promotion, so if you have tickets, you can still use them within the terms of the promotion. There was an email sent to ticket holders explaining this. If you missed it,  it may be in your spam/junk folder.
 If you don't have tickets, the promotion will be back hopefully in the next school term, if we're back to Level 1 again.  We are unable to confirm a date as timings  will be dictated by what Level Auckland is in next term,  and what restrictions the MOH and Government brief for that level.
 As a general  rule, every promotion we run is supported by terms of 'while stocks last', and/or 'subject to availability'. This is because we have finite capacity, and occasionally need to close ticket sales to ensure we aren't overcrowding our venue. For that reason, we always encourage people to buy online and buy early,  so they don't miss out.