Covid-19 Frequently Asked Questions

This page is updated to reflect the most frequently asked questions at the current level. Please check out our Level pages to see details of our park procedures at each stage (currently Level 2), or give our team a call on 09-262 2030.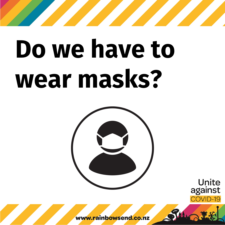 ---
No. Our procedures are in line with Government instruction, and that is guests are encouraged to wear a mask, but it's not mandated.  

 All Rainbow's End staff will be wearing masks at Levels 2 and 2.5, or at any stage where Ministry of Health advises us to do so.
---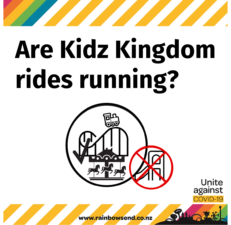 Yes. All Kidz Kingdom rides are running at Level 2  
At all levels, we use hospital grade barrier disinfectant on playstructures to prevent germs from taking hold and protect children during hands on play. In additon, our structures are deep cleaned daily and are regularly sanitised with hospital grade disinfectant.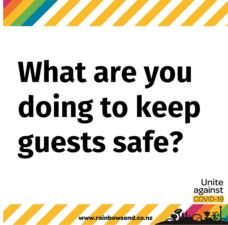 ---
We are committed to doing our part to keep our team, guests and community safe from Covid-19.

Our Covid-19 prevention practices are driven by recommendations from the Ministry of Health for general hygiene and Public Venues.
At Level 2 this means:
Contract tracing at park entry, with tracer code visibility at ride entrances to remind.
Regular cleaning of all touchpoints, followed by application of hospital grade disinfectant on play surfaces. 
Paywave for contactless transactions
Multiple and mandatory hand sanitiser spots throughout the park.
All rides and games disinfected bteween guests
Seat gaps between bubbles
Restricted numbers (this can vary according to  current Government manadate)
We constantly review and adjust our plans  based on the latest direction from the Ministry of Health. Our measure sar ehelped by most of our attractions being outdoors across 7 acres. 
---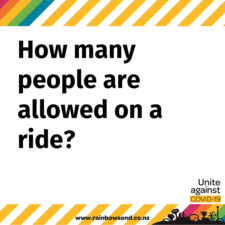 The amount of people on a ride depends on how many people can be loaded while maintaining the required physical distancing between bubbles for the current Covid 19 Level. 
All of our Front Gate, Ride Zone, and Ride loading and capacity protocols are dictated by experts from the Ministry of Health,    Government mandates for Public Venues at the current level, and the industry safety requiremnts for that ride. 
Al Level 2, some rides have more distancing than is required due to advanced security settings on seats, such as the Stratosfear. In those instances not only are bubbles distanced appropriately, the people within a bubble are distanced by seats between them.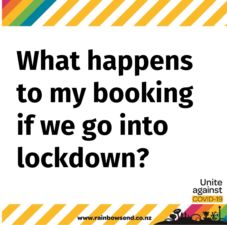 For all ticket types, our standard approach is to add the number of days of closure to the expiry of your ticket, and we allow some flexibility for those with additional complexities to consider like long distace travel. 
We are also happy to reschedule online, group and birthday bookings directly impacted by a lockdown.
We also appreciate that lockdown is unsettling, and you may wish to reduce your time in public venues even when lockdown is lifted.  We typically reopen after lockdown with Ministry of Health mandates which restrict the number of people in park, the type of attractions we can offer,  and the number of people entering in a bubble, which can impact group plans.   
For these reasons we are happy to refund group and birthday booking deposits, and online tickets directly impacted by lockdown. 
Should lockdown occur, bookings and online ticket holders within the period are contacted by email to work through the best option for you.  For a summary of options for tickets current impacted by lockdown, click here.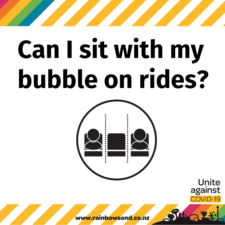 We let bubbles to sit together as much as possible, but it comes down to the security mechanisms on the ride. 
You should be able to ride together in carriages like Gold Rush, Log Flume or Dodgems. On rides with advanced security mechanisms like the Stratosfear,  the seats need to be locked off in advance,  so there will be a seat between you.