Summer of Fun Pass
Summer of Fun passes are no longer selling.
Rainbow's End's Summer of Fun pass is the perfect gift for a magical summer of making magical memories with family and friends. Just don't forget to get one for yourself too!
The pass is valid 26 December 2020 - 10 April 2021.
Terms and conditions apply.

See information in Chinese: 请见Summer of Fun欢乐夏日通票中文详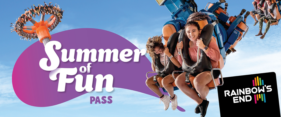 Received a Summer of Fun pass?
You need to activate your card by confirming your cardholder details, and uploading a photo against the card. Have the booking Ref# from your ticket confirmation handy.
ACTIVATE YOUR CARD HERE
Please activate your pass at least 24 hours before your first visit.
Step 1: The activation link is on the Rainbow's End Website, you'll find it on the Homepage anmd Summer of Fun pages.
Step 2: You will be prompted for a code. Please use the Booking Ref# from your emailed ticket confirmation
Step 3: Confirm cardholder details
Step 4: Upload a photo.
If you are unable to activate your card before your first visit it is possible to do this on arrival. Please allow extra time and enter through the Retail Hub entry. After that it's easy, each time you visit just present your card on entry!
Enjoy unlimited rides all summer with our Summer of Fun pass!
Activate your pass here before your first visit.