Celebrate Eid at Rainbow Playlab
- posted by Rainbow's End
« back
---
Eid al-Adha
Sunday 11th - Thursday 15th August 2019.

Eid al-Adha is a great time for gathering with friends and family, and what better way than in an environment built for playing and socialising. This Eid, from Sunday 11th - Thursday 15th of August, we are inviting you to Rainbow's End's new entertainment centre, Rainbow Playlab, to celebrate Eid with your family and friends by offering all visitors access to a Playlab Play Pass with $35- $40 worth of playtime for just $20!

Usually this great value pass is only available to VIP visitors to Rainbow's End Theme Park, but during Eid everyone can take advantage of this great offer!
At Rainbow Playlab your family and friends can experience the best and latest in entertainment technology - Virtual Reality with a mix of fun experiences suitable for young families and those who like more of an adrenaline fueled challenge; virtual sword fighting, a time travel escape room, dodgems, arcades and more.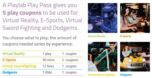 Located by Rainbow's End, Rainbow Playlab is open 7 days, 12-7pm. Entry is free to Rainbow Playlab, but game costs vary.

What Halal food is available?
Chicken, Beef and Lamb:
All our chicken dishes, including nuggets, nachos and burgers, are made with Halal chicken products supplied by Brinks, and our beef burgers are halal certified and supplied by Top Notch. Please note, that many of our burgers include cheese, and the cheese we use has rennet in it. If you are ordering nachos or a burger please let us know you would like cheese removed, or let us know you follow a Halal diet.
Vegetarian spring rolls and samosas
The ingredients are in these products are Halal, however if they have been fried, there is a chance they may have been cooked in the same oil as non Halal items. When you are ordering, please let us know you are observing a Halal diet, and we will oven bake these items for you to keep them Halal.

Fries and fried fish
In some of our smaller kitchens it may not be possible for us to keep Halal food in a separate fryer. Check with our café team on the day for the halal status of fried items.
Hot Dogs

Rainbow's End Hotdogs are not Halal – our sausages are made from a meat mixture that includes pork.
Hot beverages

All Hot Beverages are Halal with the exception of Hot Chocolate with Marshmallows. Our Marshmallows contain beef derived gelatine which we cannot confirm is Halal. Please ask us to leave marshmallows out of your hot chocolate, or let us know you are observing a Halal diet at the time of order.
We hope to see you soon!