Face your Fears Day
- posted by Rainbow's End
« back
Face your Fears day is coming up on 11th October. If you've ever looked at the Stratosfear and thought "you'll never get me on that" then this day is all about saying "yes we will!"
Enter the competition on Facebook by nominating yourself or someone else (with their permission) to come to Rainbow's End on 11th October and face their fear. We'll make sure we capture the moment when you overcome your fear with video and photos on our Facebook page.
Just to make sure you have fun too, we'll also sort out the winner with a Family Superpass which includes all the other rides as well.
Make sure that if you are nominating someone else they are ok with being entered and that they're free and able to get to Auckland on 11th October 2016.
See below for competition terms and conditions.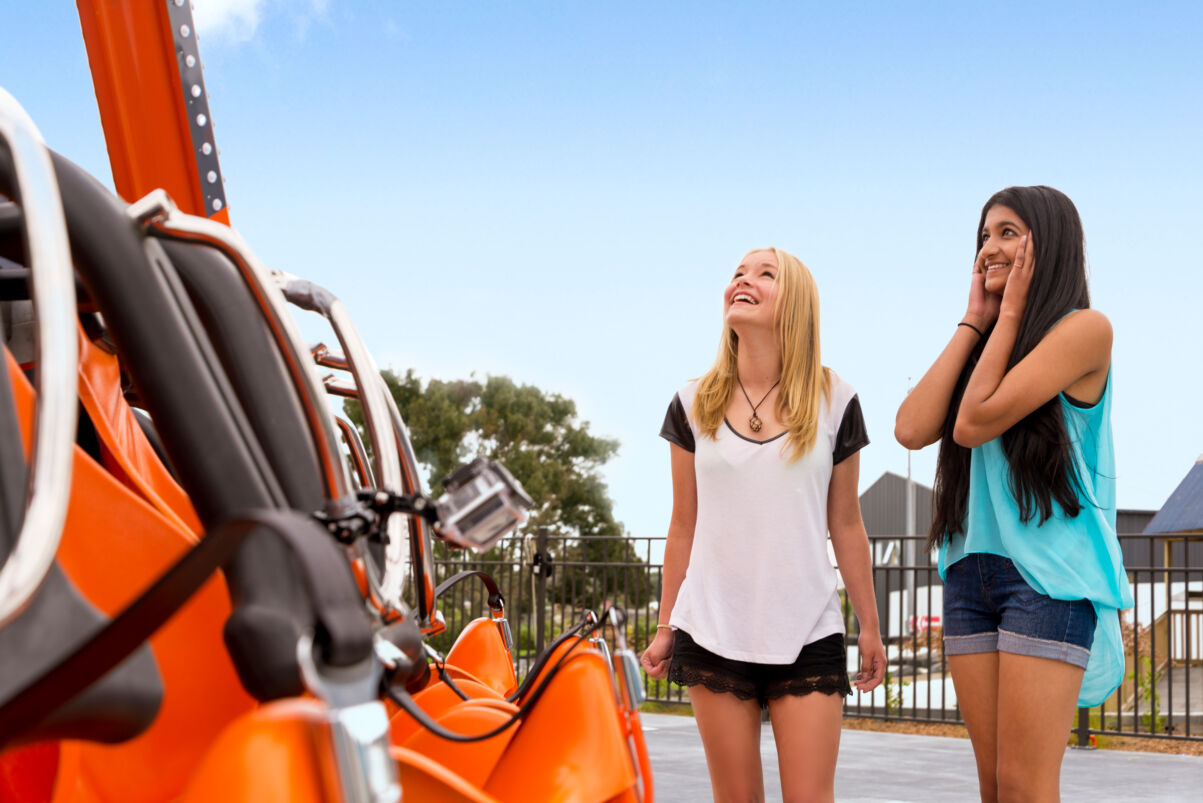 This competition is now closed
Competition Terms and Conditions
1. This competition will be drawn on Friday 7th October 2016. We will contact the winning comment by private message and/or a reply to their comment. If we can't contact the winner or receive no reply to our messages after three attempts and a period of 24 hours then we will have to redraw the prize. Please make sure you accept any private message requests from Rainbow's End.
2. The prize is a Family Superpass (2 adults and 2 children) to Rainbow's End on Face Your Fears Day (11th October).
3. Rainbow's End reserves the right to decline or remove entries which are deemed at their sole discretion to be inappropriate or unsuitable for any reason.
4. We love our Rainbow's End team very much, but we know our team are fearless, so if you work at Rainbow's End then you and your family are not able to enter the competition - sorry guys.
5. By entering the competition you allow us to post your name, photo and entry. If you are nominating someone other than yourself please make sure you have permission of that person as well. The winner will need to agree to be featured on video (including live video) and in images by Rainbow's End.
7. The prize can't be exchanged for cash or sold to another person.
8. The prize cannot be transferred or exchanged for anything else. Please make sure you would able to redeem the prize before you enter the competition.
9. This promotion is in no way sponsored, endorsed or administered by, or associated with, Facebook. You are providing your information to Rainbow's End Theme Park Ltd and not to Facebook. By participating in this promotion you agree to a complete release of Facebook from any claims. Participation in this promotion is subject to the official rules.