Kidz in the Kitchen: Rainbow recipes for little fingers
- posted by Rainbow's End
« back
Check out our favourite Rainbow recipes for getting our kids in the kitchen.
These recipes are perfect for little fingers (with a little bit of help).
We'll be updating this post with new recipes as they launch so make sure you check back - and don't forget to show us your fantastic creations on social media!
---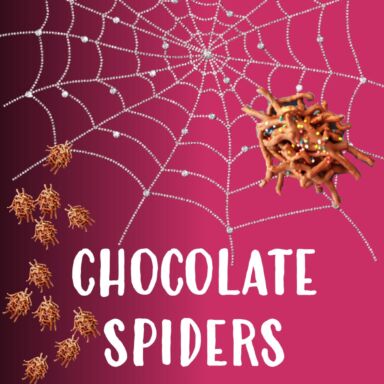 Kidz in the Kitchen: Chocolate Spiders
We love how easy these chocolate spiders are to make, but older kids may have fun dressing them up a bit more.
We have used fried noodles packet, but pretzels work well too.
---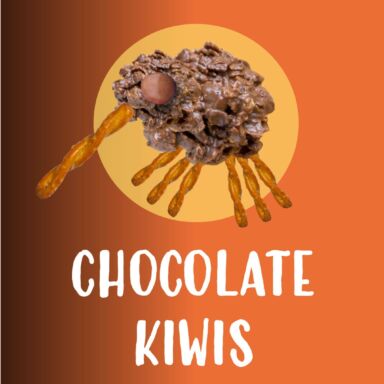 Kidz in the Kitchen: Chocolate Kiwis
Our sweet little national bird just got sweeter!
Swap the pretzel for a chocolate finger biscuit for a beak that's a treat.
---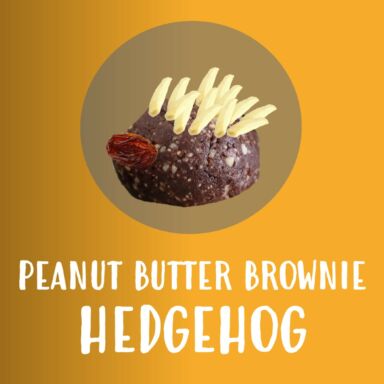 Kidz in the Kitchen: Peanut Butter Brownie Hedgehog
This little Peanut Butter Brownie Hedgehog is easy and fun to make and doesn't need to be baked.
Create little Hedgie families by making them in different sizes. Following the scoop sizes in the recipe will make about 15.
---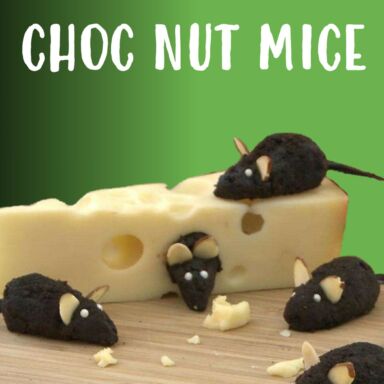 Kidz in the Kitchen: Choc Nut Mice
We loved nibbling on these little nibblers.
Make your Choc Nut Mice richer by swapping cocoa for your favourite chocolate melted, or go for a melted chocolate coating.
---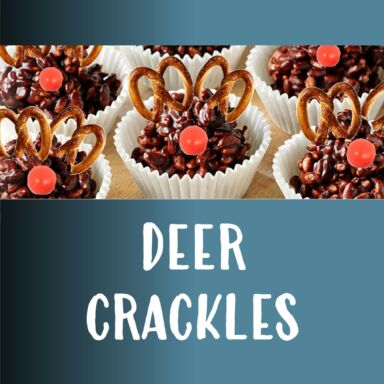 Kidz in the Kitchen: Deer Crackles
Try mixing in some mini marshmallows or smarties into the crackle mix for an extra delicious twist. The pretzels are crunchy and salty and are a nice match to the sweetness of the chocolate.
---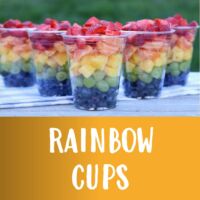 Kidz in the Kitchen: Rainbow Cups
This colourful lockdown treat is one of our favourites to make with the kids in the kitchen.
What else would you layer in there to make the rainbow even yummier?
---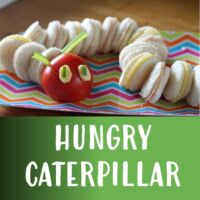 Kidz in the Kitchen: Hungry Caterpillar
This little Rainbow recipe is almost too cute to eat – almost! The best part of the recipe is scoffing the offcuts while your little kitchen buddies are busy assembling.
---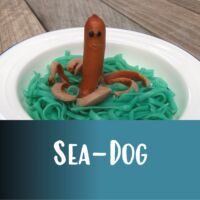 Kidz in the Kitchen: Sea Dogs
Rrrrrrrr! It be another Rainbow recipe to get kids in the kitchen during lockdown, RRRRrRRRRR!
We like the way the 'tenacles' curl up to look like the real deal when you heat the hotdog.
---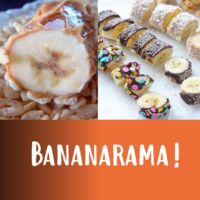 Kidz in the Kitchen: Rainbow Pops & Bananarama
The Rainbow's End Catering Team reckon the topping combinations are endless for these two Rainbow recipes for getting kids in the kitchen. What combinations do your kids think are yummiest?
---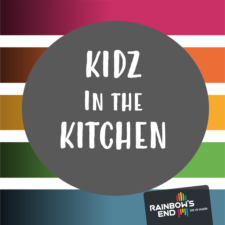 Competition Terms and Conditions
The 'Promoter' is Rainbow's End Theme Park Ltd
'Disqualified Participants' are: all Rainbow's End Employees; all employees of participating sponsors or promoters and/or advertising agencies and their immediate families. 'Immediate Families' include spouses, grandparents, parents, children, and grandchildren, whether by marriage, past marriages, remarriage, adoption, co-habitation or other family extension.
Conditions of Entry:
1. Entry is limited to one entry per person
2. No purchase is necessary to win or participate in the promotion.
3. Rainbow's End reserves the right to exclude any person from the promotion on reasonable grounds.
4. Rainbow's End reserves the right to refuse to award any prize to an entrant who Rainbow's End decides (in its sole discretion) has violated the conditions of entry and gained unfair advantage in participating in the promotion or won using fraudulent means.
5. By participating, entrants grant Rainbow's End exclusive permission to use their names, characters, photographs, and likeness in connection with the Promotion and for future promotion and marketing purposes and waive any claims to royalty, right or remuneration for such use.
6. Entry to the competition is by posting a photo of one of the recipes (made by you), or something else you've made in the kitchen, in the comments of any Kidz Kitchen Facebook post.

The Prize and Prize Draw:
6. The prize is for a family box of candy floss and rainbow popcorn to be sent once we are in level 2. There are a total of 3 prizes to be awarded to 3 different winners.

7. The prize is not exchangeable for cash
8. The prize will be drawn at 10am on the second day of level 2. The judges decisions are final and no correspondence will be entered into.
9. Winner will be notified by via Facebook private message and/or a reply to their entry comment.
10. If attempts to reach the winner are unsuccessful by 5 business days after the draw, the prize will be redrawn.
This promotion is in no way sponsored, endorsed or administered by, or associated with, Facebook. You are providing your information to Rainbow's End Theme Park Ltd and not to Facebook. By participating in this promotion you agree to a complete release of Facebook from any claims. Participation in this promotion is subject to the official rules.