Your Kidz Kingdom Questions Answered
- posted by Rainbow's End
« back
Kidz Kingdom is an awesome place just for children 8 years and under at Rainbow's End!
If you're planning your next visit, visiting for the first time or even planning your child's birthday party check out our list of common questions to help plan your day.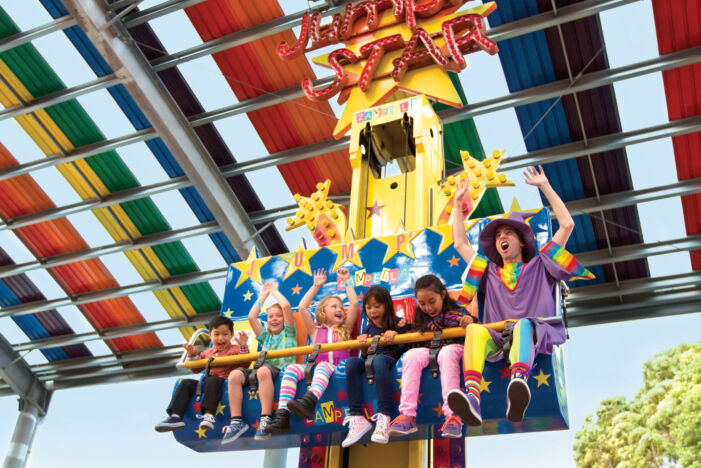 Which rides are in Kidz Kingdom?
There are lots of rides and attractions in Kidz Kingdom especially for children 8 years and under.

The indoor area of Kidz Kingdom has the Fortress of Fun - a big play structure with slides, tunnels and lots more to explore. Enzo's Country Raceway, Comfyland, the Dixie Chickens and our Tiny Tots soft play area are also indoors at Kidz Kingdom. In the outdoor covered area at Kidz Kingdom you'll find the Choco Express, Jumpin Star, Carousel, Magic Bikes, Surf n Swing, Car Wash Convoy and Space Shuttles. Find out more about our Kidz Kingdom rides and attractions here.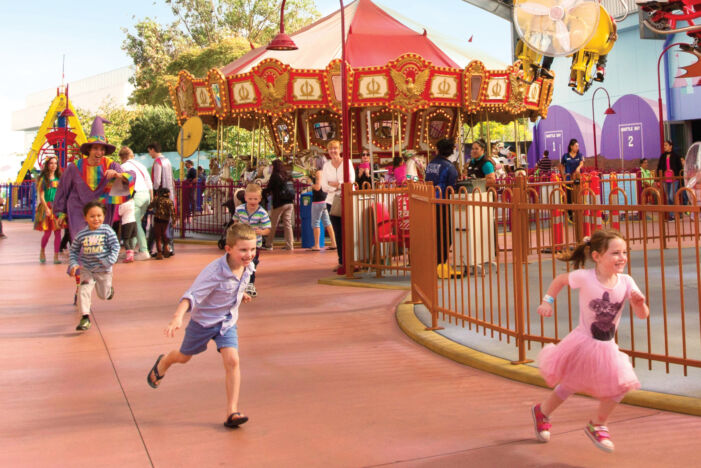 When is a good time to visit?
If you're celebrating something special like a birthday party then that's a good starting point. For children's birthday parties parents will usually book the party on either the date of the birthday or on the nearest weekend or holiday. For party bookings it can be a good idea to check with key friends to make sure that everyone can be there on the date of the party to celebrate.
If you are visiting for a day of fun with no fixed date in mind then there are lots of choices. Midweek (Monday-Friday) is often a great time to come as the park is generally much quieter at this time. Rides in Kidz Kingdom operate on an on-demand basis where operators move between the rides the children want to go on.

Weekends, public holidays and school holidays are usually popular times to visit and there's a really good atmosphere in Kidz Kingdom with lots of children all having fun! Rides operate continuously on weekends, school and public holidays.
Just for February and March 2018 we have a special deal with Half Price Kidz Kingdom Tuesdays and Thursdays! See the deal


Which pass should I get for my child?
Your child will be able to go on the Kidz Kingdom rides with a Kidz Kingdom pass. This pass includes the indoor and outdoor covered sections of Kidz Kingdom and the pass is for unlimited rides in this area all day. There are also options to add unlimited rides on AA Driver's Town and the Log Flume (both located outside Kidz Kingdom) as an upgrade. If you'd like your child to be able to go on all the rides in Rainbow's End then you can get them a Child Superpass. If they are 8 years and under then this includes the Kidz Kingdom rides as well (height restrictions apply on all rides).
What happens if there's wet weather?
Auckland weather can be pretty changeable and if you've planned a visit or a birthday party then an all-weather venue is definitely a plus! Kidz Kingdom is fully covered and has both an indoor and outdoor covered area so it's a great place to play no matter the weather. Our rainbow roof which covers our outdoor area also provides shade on those hot summer days.

Can I go on the rides with my child?
It's a moment you'll never forget, the first time your child rides a roller coaster or grins from ear to ear on the carousel! Most of the rides in in Kidz Kingdom have optional parent seats so that a parent can ride with their child and experience the magic with them. On some rides a parent may be required to ride depending on their child's height.
Parents can accompany their child on the Kidz Kingdom rides with either an adult Superpass or a spectator pass. Please note expectant mothers will not be able to ride.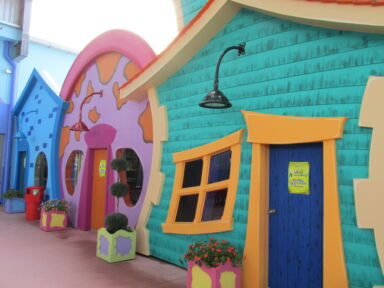 What are the colourful rooms along the wall in Kidz Kingdom?
The colourful rooms along the Kidz Kingdom walls are our birthday rooms. These rooms are for parties who have booked our Kidz Kingdom birthday package which includes free room hire for an hour.
Is there a Café in Kidz Kingdom? Yes, Small Talk Café is in Kidz Kingdom so you can grab a coffee or something to eat while you're watching your child play. Small Talk Café has a selection of café style food with sweet and savoury options. You are also welcome to visit any of our meal outlets in the main park as well.