RAINBOW'S END TEAMS UP WITH RUGBY POWERHOUSE TO INSPIRE KIWI KIDS
- posted by Rainbow's End
« back
Rainbow's End has teamed up with the inspiring All Black, Ofa Tu'ungafasi, and two promising New Zealand athletes; BMX rider Maynard Peel and Paralympian, Tupou Neiufi, to encourage Kiwi kids to do their best.
The new programme, Rainbow's End Inspiring Kids, is run from Rainbow's End. Auckland schoolchildren that are doing well in different fields, whether it's sporting or academic, are invited in to speak to Ofa about their journey and achievements. The children are nominated by their Principals and come from a variety of schools. The hope is that hearing from young people just like themselves, as well an athlete at the top of their game, will give them the confidence to reach for their goals – whether that's in reading, writing, basketball – wherever their interests lie.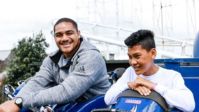 The first series with Ofa will be available via video, which Rainbow's End will be sharing through their website and social media channels over the coming months. The first videos will be unveiled before Christmas.
Ofa was inspired by his own father who supported his family and along with his mother raised their 12 children. In his sporting career, former All Black star, Kevin Mealamu has been a great inspiration as a person and as an athlete.
"It's really great to share this with the kids and ask them what inspires them and what makes them want to achieve," says Ofa.
As well as working with Ofa, Rainbow's End has linked up with two Youth Ambassadors to support the Inspiring Kids programme. BMX rider Maynard Peel and Paralympian Tupou Neiufi are athletes identified by their sports as athletes with the potential for future international success.
Both have already embarked on the road to senior international representation. Maynard was the 2016 World Junior Champion BMX rider and now has his sights set on the Tokyo 2020 Olympic Games. He is from Papakura and rides out of the Pukekohe club. Tupou was first identified by Paralympics New Zealand in 2011 and represented the country in swimming at the Rio 2016 Paralympic Games. She is hoping to compete at the Gold Coast 2018 Commonwealth Games, having met the qualifying times, with the ultimate goal of representing New Zealand again in three years' time, at the Tokyo 2020 Paralympic Games.
Both Maynard and Tupou are huge fans of Rainbow's End and jumped at the opportunity to encourage other young people to always strive to do their best.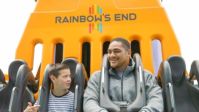 Rainbow's End CEO Chris Deere explains:
"It's important to encourage our kids. Every achievement spurs them on to the next one and we have seen some amazing kids come through the park. It will be exciting to see what they do in the future.
"Not everyone will be an All Black, Olympic or Paralympic champion but we can all do well and achieve success in every aspect of life. If kids are encouraged to believe in themselves they won't see the barriers that people sometimes put in the way."
Rainbow's End has long been a source of inspiration for Kiwi kids. Whether it's completing a ride on Fearfall or braving the Stratosfear for the first time, there are plenty of opportunities to push themselves out of their comfort zones and enjoy the boost of confidence from achieving a goal. The Inspiring Kids programme will enable the park to take this another step further. The Rainbow's End team is looking forward to inspiring and encouraging kids to aim for the stars in their academic and sporting achievements.