Summer of Fun Pass 2020-2021
- posted by Rainbow's End
« back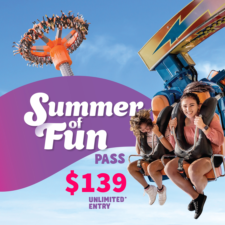 *Ride during our daytime opening hours all summer long for just $139!

Rainbow's End is the perfect place to be this summer, a magical day out with friends and family. With all the rides and unlimited entry a Summer of Fun pass is the perfect gift - just don't forget to get one for yourself too!
PASS:
Rainbow's End Summer of Fun Pass $139
ACCESS:
Unlimited daytime entry from December 26th 2020 to March 31st 2021.
purchase period:
Selling now until January 8th.
Pass purchases are online, but you are able to upgrade in park too. If you're visiting the park between Dec 26 and Jan 9th y you can upgrade to a summer of fun pass that same day and just pay the difference! Talk to our helpful team at Gate entry.
COVID CONSIDERATIONS:
Should the park go into lockdown during the validity of your pass, the total number of lockdown days will be added to the expiry date of your pass.
Summer of Fun Pass T's and C''s are below



summer of fun pass terms and conditions
CARD ACTIVATION

Before you can use yuour card, you need to activate it, by
confirming your cardholder details
uploading a photo.
Activate your Summer of Fun Pass HERE, IT WILL ASK FOR A CODE, PLEASE USE your booking Ref# on your emailed ticket confirmation. THIS IS a 6 digit code in a mix of numbers and upper case letters.
Please visit th link above anactivate your card at least 24 hours before your first visit. If you are unable to activate your card before your first visit it is possible to do this on arrival. Please allow extra time and enter through the marked lane. After that it's easy, each time you visit just present your card on entry!


REFUND & CANCELLATION POLICY
- Summer of Fun Passes are non-refundable.
- Consistent passholder refusal to adhere to Rainbow's End park policies, particularly those relating to guest behaviour towards staff and other guests, or refusal to meet entry requirements, will result in immediate cancellation of your pass. A refund in this instance is at Rainbow's End discretion, with the decision to refund based on the usage to date of your pass and severity of terms and conditions of use/abuse.
DELIVERY
Passes will be sent by courier until 15 December 2020, please allow up to 10 business days for your pass to arrive. From 16 December 2019 passes will be pickup only, so please ensure you are able to collect them from Reception at Rainbow's End. Rainbow's End administration and reception is location at the Rainbow Playlab entrance, in-between the Main Park and Kidz Kingdom entrances.
TERMS AND CONDITIONS
- Summer of Fun passholder is entitled to unlimited Superpass entry, verified on entry by photo collected on activation.
- Summer of Fun Passes expire on 31 March 2021.
- Summer of Fun passes are non-transferable and only valid for the identified cardholder.
- Summer of Fun pass offers parkwide riding as long as height and age restrictions are met for safety.
- There is one price for either child or adult Summer of Fun passes.
- Last day to purchase Summer of Fun Passes is Sunday 9 January 2020.
- No refunds, partial refunds or extensions will be granted.
- Passholder must present card on entry to obtain a Superpass.
- Cards may not be used until a photo has been applied against the card for the cardholder.
- Summer of Fun passes are not valid for special events, Night Rides, evening events or private functions.
- Please check the Rainbow's End website for opening hours. During Terms 1-3 the park s not open 7 days.
- Rides and attractions are subject to change without notice, please check the website before your visit for updates.
- Park may be closed in adverse weather conditions, please check the website before your visit.
- Report any lost or stolen cards immediately.
- Replacement cards will incur a $20 fee including postage, please allow up to 10 working days for a new card to arrive
- Passes do not entitle guests to front of line at rides.
- For personal safety Rainbow's End does not allow pregnant women on rides.
- Not valid with any other offers, deals, packages or discounts.
- Height restrictions for rides apply.
- Children under 2 years old receive free entry. Summer of Fun passes should only be purchased for children 2 years and above.
- Please note that on weekdays outside of school holidays rides operate on a timetable. - Some days can be exceptionally busy so call ahead to check park numbers to avoid disappointment.
- Passholders will be emailed during the summer with news especially for passholders.


- All standard Rainbow's End terms and conditions of entry apply, including bag checks at entry, and guest standards of behavior.
- Consistent refusal to adhere to Rainbow's End park policies, particularly those relating to staff and other guest wellbeing and safety, will result in cancellation of your pass.
- Passes may not be on-sold or used in any third party promotions.