Special EVENTS
Check out what's happening
There's always so much happening at Rainbow's End - see a selection of our upcoming events and announcements below or check out our news in the sidebar.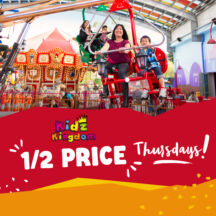 Kidz Kingdom passes are half price on Thursdays! The deal is on for every Thursday except during school and public holidays.
From the Jumpin Star and Choco Express to the Carousel and Fortress of fun - there's so much to do! Kidz Kingdom has both an indoor and covered outdoor area so it's the perfect place to play rain or shine! Find out more...

Upcoming Events

Be one of the first to hear about news, deals and events at Rainbow's End.

Just sign up and we'll send you an email when they are announced!