Special EVENTS
Check out what's happening
There's always so much happening at Rainbow's End - see a selection of our upcoming events and announcements below or check out our news in the sidebar.
Night Rides Encore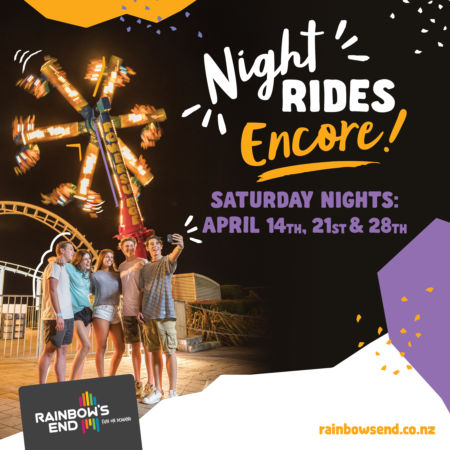 Night Rides Encore are here for 3 nights only on 14, 21 and 28 April.
It's a completely different experience riding in the dark, spinning through the night on the Invader or feeling your feet kick into the starry sky on the Stratosfear.
Make sure you bring a friend to share the scream as you plunge into darkness from the top of the Fearfall!

Sign up
Want to be one of the first to hear about news, deals and events at Rainbow's End? Just sign up and we'll send you an email when they are announced!