Special EVENTS
Check out what's happening
There's always so much happening at Rainbow's End - see a selection of our upcoming events and announcements below or check out our news in the sidebar.
Spooky School Holidays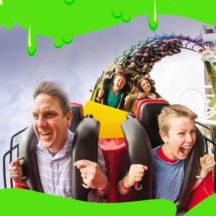 It's thrills and chills with treats and sweets these spooky school holidays!
Bring your best cackle or your spookiest costume for a positively thrilling day of spine-chilling fun. Find out more...

Dark Rides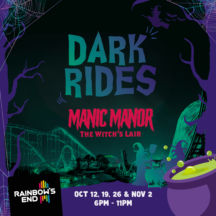 Double, double thrills and fear; dare you enter the Witch's Lair? Dark Rides comes with witchy fun, face your fears or turn and run.
Spin at the top of Stratosfear, plunge to the ground on the Fearfall or drift through the Enchanted Forest in the dark on the Log Flume. Bring your friends for a night of spine-tingling fun at Dark Rides.
Tricks & Treats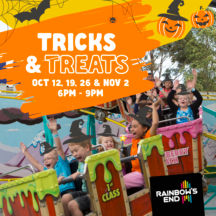 Fun on the rides and a bag of treats, a night in Kidz Kingdom is the perfect treat!
Get a tricks and treats pass and enjoy all the Kidz Kingdom outdoor rides 6-9pm, plus there's a free treat bag for the kids on entry.
Upcoming Events

Be one of the first to hear about news, deals and events at Rainbow's End.

Just sign up and we'll send you an email when they are announced!