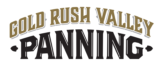 Gold Rush Valley Panning is a pay per play attraction where you
pick a mining pack full of gems
pour a part into the mining sluice box
dip the box in the water & watch!
Each pack has a guaranteed weight of treasure, including authentic fossils, raw gems and jasper arrowheads! Plus, a souvenir educational card to help you learn about what you've found.