School Holidays
Make your own stories at Rainbow's End these school holidays!
Remember when you were a kid and you signed up to Road Patrol just to go on the Rainbow's End trip? Or how you sat at the front of the Log Flume just to make sure you got splashed at the end.
School holidays is all about creating fantastic memories with your family and friends and what better place to do this than Rainbow's End, where you probably have a few memories of your own!

There's something for everyone these holidays with live entertainment everyday, a brand new show in the Motion Master and of course all the rides! Kidz Kingdom is perfect for younger children and thrill seekers will love the adrenaline pumping Stratosfear. Come and create some fantastic memories with your friends and family these school holidays.
Open every day 10am – 5pm during weekends and school holidays.

school holidays Entertainment

We have a full line up of shows and entertainment every day these school holidays!

Check out the JGeeks, Crayola Party Time, Centre Court Carnival, Moe Live and the Kidz Kingdom fun and Magic Show!
Brand new Motion Master movie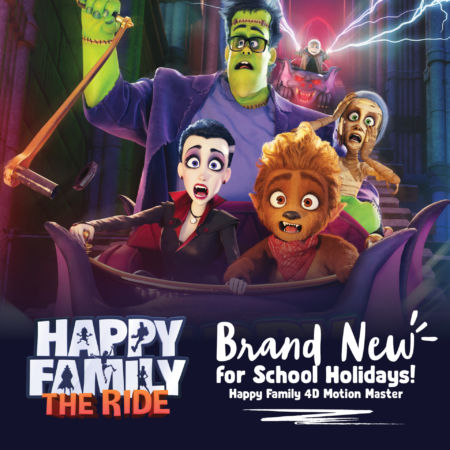 Brand new for July school holidays! Happy Family will be showing in the 4D Motion Master.
Experience the fast-paced, magical mayhem of Happy Family The Ride as the Wishbone family attempts to reverse the spell placed on them.
Rides at Rainbow's End

With over 20 rides and attractions, there's something for everyone. If you are a thrill seeking enthusiast then take on one of the Big 5 thrill rides. Or if you'd like something to suit the entire family, perhaps the Log Flume or Dodgems. It's your fun, and you can put it together any way you like.
visit Kidz Kingdom

Kidz Kingdom is an awesome area just for children 8 years and under. With both an indoor and covered outdoor area it's the perfect place to play rain or shine!
With lots of rides and attractions just for younger children Kidz Kingdom is the perfect place to get together and play.

Buy tickets

Buy tickets online or at the gate.
Looking for a Family Superpass? Just add the number of adults and children in your family to our calculator to see how much you'll save.