Buy A Gift Voucher
GIFT VOUCHERS
If you're looking for that perfect birthday present, Christmas gift or way to thank someone special, then give the gift of a great day, full of fun and unlimited rides at Rainbow's End! Experiences are a wonderful way to treat someone special and create special memories.

With our gift vouchers you select the tickets you want to gift them, and your recipient exchanges their voucher for a booking when they're ready to come in. They will have 12 months from date of issue to book a visit.
Our gift vouchers are online so there's no waiting, once you add in all the details and your personal message, a link to your voucher will be sent straight to you by email, ready to forward. Easy as!
Terms:
Gift vouchers are subject to the same entry and purchase terms as all Rainbow's End ticketing. In addition;
Activity that exposes vouchers to fraud risk such as third party promotions or on-selling may result in voucher cancellation.
Vouchers may also not be refunded or exchanged for cash. In exceptional circumstances where a voucher refund is approved, refunds are always made against the card used to purchase.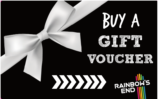 DEAL VOUCHERS
This page is also where you can redeem a deal voucher or code, such as deals from Grab One.
Once you redeem your code, you will be issued a Rainbow's End ticket. Show your Rainbow's End ticket at gate, either printed or on your phone, for entry.
REDEEM YOUR GIFT VOUCHER OR DEAL:
Click one of the buttons below to turn your voucher or deal code into a booking for a park visit.