Kids Birthday Parties
Book a Birthday Party
Have the best birthday ever at Rainbow's End, a full day of fun and rides for all ages! Book online now or see our birthday packages for more details.
A deposit by credit card will be required when you book online and we will contact you to confirm details within 24 hours on a weekday or the next working day on weekends or public holidays.
To give more assurance of securing the date and time you prefer, please book in advance. Please note that birthday deposits are non-refundable.

MORE INFORMATION
See our birthday packages for more information on kids parties at Rainbow's End. If you would like to talk with one of our coordinators about a party please email or call us on 09 262 2030. We would be happy to answer any questions and help you create the most wonderful birthday for your child.
EVERYTHING YOU NEED FOR YOUR PARTY
Once you have chosen your birthday package it's time to get into the fun part - inviting your guests and adding any special touches! We have free birthday invitations for download at the bottom of this page, just choose which colour you would like and add in your details. We also have a range of extras which can be added to your party like loot bags, birthday gifts, place settings or balloons. We can also organise a birthday cake or extra catering for your group so there's lots of options to make the party perfect for your child.
Come along and meet our resident park characters, Rai n Bow, Princess Sapphire, Sir Prised Alot, Iris the Fairy and Enzo the Magician! Have a birthday party like never before at Rainbow's End.


One of our Kidz Kingdom birthday party rooms. Our Kidz Kingdom birthday package includes your very own birthday room for an hour. We can also help make your celebration extra special with the option to book balloons, place settings, loot bags or a birthday cake!

Party Invites
Rainbow's End Birthday Invitations are available in PDF format for download. There are four different designs so you can choose just the right one for your party.
Please feel free to print these invitations for your friends and family, we're sure you will have a fantastic birthday here at Rainbow's End!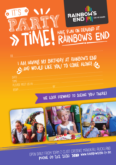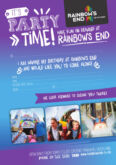 Entertainment
Rainbow's End provides entertainment at Centre Stage on weekends, public and school holidays. See our entertainment schedule for a full list and show times.