General admission queries
What's in Rainbow Playlab?
Rainbow Playlab has the latest in entertainment technology with Virtual Reality, E-Sports, Escape Room and Arcade games.

When is Rainbow Playlab open?
Rainbow Playlab is open every day except Christmas Day.
Peak days: 12pm-6pm (weekends, school holidays, public holidays)
Off peak days: 12pm-5pm (Monday-Friday during school term)

From time to time Rainbow Playlab will be closed for private functions, see our news and updates for information on upcoming functions.

How much is entry?
Entry is free, game costs vary.
Do I need to book in advance?
Bookings are essential for the Escape Room and any of our package deals. You can also prebook E-Sports.

What if I also want to go to the main park at Rainbow's End?
See the team at the Rainbow Playlab info desk and you can purchase a Superpass, Kidz Kingdom or Spectator pass. You will need one of these passes to enter the main park and/or Kidz Kingdom.
Is Rainbow Playlab wheelchair accessible?
Accessible parking is available for guests whose vehicle displays a special needs parking permit. These spaces are clearly marked with the international symbol. During Main Park open hours we have an accessible entrance to Rainbow Playlab through the Retail Hub. After main park hours please call 092623030 and our team will guide you to the accessible entrance which is located close by.

How old do I need to be to visit and play games in Rainbow Playlab?
Rainbow Playlab is open for everyone to visit, however children 14 and under should be accompanied by a parent or adult guardian.
Age recommendations:
Our age recommendations for the center vary depending on the activity. We reserve the right to refuse access to content we deem to be challenging or unsuitable for children.
E-Sports:
Ages 8+, game content and classification dependent.
While we recommend E-Sports for ages 8 and up, we use gaming certification to restrict what games are available to players at log in.
For example, if the player is aged between 13-14, games certified for ages 15+ won't be visible to them.
Players are asked for age at login, and this will filter out any games restricted from their age. Staff may ask for proof of age when setting up a gamer for play. In some instances, we will allow access to games with parental approval, such as Fortnite for Children under 12.
A full list of our E-Sports games and their age classification is on the E-Sports information page
VIRTUAL REALITY:
Ages 7+, content dependent.
Our game selection includes family friendly content styles (Groove Guardians and Cold Clash) or more extreme adrenaline pumping action content (Zombyte and Simurai).
We retain the right to refuse to play content for minors, where we deem the content unsuitable.

Details on current Virtual Reality Experiences and upcoming, along with their suitability, can be found on our Virtual Reality info page.
ARCADES
Ages 7+
There is no issue with content in the Arcade, but the mix of games in Rainbow Playlab may be more engaging for kids 7 and up.
There is a second Arcade in Kidz Kingdom, perfect for kids under 8. Your Arcade game card will work at both locations.
For details on game range and pricing, check out our Arcade page.
ESCAPE ROOMS
Ages 8+ (Adult participation recommended for ages under 11
The Time Traveler Escape is an exciting, immersive experience with some quite challenging puzzles, so we recommend a good spread of ages, or at least one adult participant for where the group has a majority of participants aged 11 and under.
We cap bookings at 8 to ensure good puzzle time for everybody, and ample room to move about across the two rooms in the Time Traveler experience. We will make exceptions for birthday bookings where the group is young and a guardian needs to participate with them.
For details on game range and pricing, check out our Escape Roomspage.

DODGEMS
Dodgems are less about age, and more about height.
To drive a Dodgem you need to be at least 130cm in height.
To be a passenger in a Dodgem, you need to be at least 80cms in height.
No more than two riders per dodgem. Dodgems only available with private hire

How can I contact Rainbow Playlab?

If you can't find what you're looking for in these pages you can give us a call on 092622030 or email us: [email protected]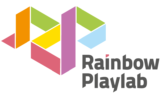 Free entry Game costs vary Open 7 days
Book in advance for:

Have questions? Check out our FAQ page or contact us.
Phone: 092622030
Email: [email protected]