Kidz Kingdom
« back
KIDZ KINGDOM is ONLY ACCESSIBLE TO UNDER 8's ON A CHILD SUPERPASS IN LEVEL 2.
Level 2 brings significantly restricted guests numbers by zone within park, and mandates to reduce standing clusters to keep us all safe.

The conditions of Level 2 Safety mean we will be managing Kidz Kingdom entry from the Main Park Gate. Kids Kingdom or Spectator tickets will not be available for sale at Level 2, unless on a pre-booked Birthday Package.
Pre-lockdown purchased Kidz Kingdom and Spectator tickets may be used in Level 2, within the terms of your ticket (e.g. Half Price Fridays needs to be used on a Friday before end of Term 3). Due to guest caps, you need to register your visit using a pre-lockdown ticket here.
---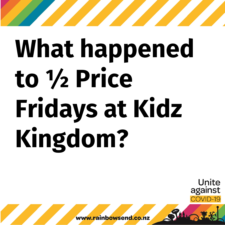 This promotion was scheduled to run July 31st to September 25th, subject to availability, and  was advertised before we knew a lockdown was coming, followed by massive Zone restrictions mandated by the Ministry of Health for Public Venues.
 The tickets we had already sold for both this promotion and other tickets that can enter the Kidz Kingdom zone put us at the capacity we are allowed in the Kidz Kingdom zone under current regulations and rules for Public Venues at Level 2.  That's why no Kidz Kingdom tickets are being sold currently. 
 We are honouring any tickets already purchased for this promotion, so if you have tickets, you can still use them within the terms of the promotion. There was an email sent to ticket holders explaining this. If you missed it,  it may be in your spam/junk folder.
 If you don't have tickets, the promotion will be back hopefully in the next school term, if we're back to Level 1 again.  We are unable to confirm a date as timings  will be dictated by what Level Auckland is in next term,  and what restrictions the MOH and Government brief for that level.
 As a general  rule, every promotion we run is supported by terms of 'while stocks last', and/or 'subject to availability'. This is because we have finite capacity, and occasionally need to close ticket sales to ensure we aren't overcrowding our venue. For that reason, we always encourage people to buy online and buy early,  so they don't miss out.