Theme Park Information
Everything you've ever wanted to know about Rainbow's End is here in the info pages.

Our website also contains information on pricing, events, birthdays, group bookings and a lot more! If you don't see what you are looking for below then try our FAQs or contact us.

And if you're planning a visit, check out our Visitor Tips
---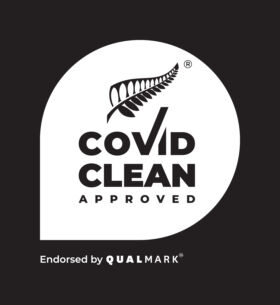 We're COVID CLEAN Approved!
The COVID Clean Approved logo is a sign of assurance that a Qualmark awarded operator is equipped with health and hygiene measures to help protect against COVID-19, in accordance with government guidelines.
It offers customers the assurance they can book with confidence knowing that not only is the operator a recipient of a Qualmark award, but they also have a robust understanding of COVID-19 protocols.
Planning your day
What's on offer
Safety & Accessibility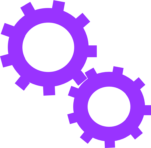 Your privacy
Frequently Asked Questions
How do I get to Rainbow's End?
Directions for driving as well as train and bus travel can be found here.
Do you have a Family Pass?
Yes we do have Family Pass discounts! To check how much a Family Pass would be for your family, just add the number of adult and child superpasses you need here and it will automatically calculate your discount. To get a discount you'll need at least 3 Superpasses with a mix of adult and child Superpasses in the same transaction.
Can you tell me more about what Superpasses, Spectator Passes and Kidz Kingdom passes mean?
We have lots of different tickets at Rainbow's End, see ticket types to give you an idea of what the best option is for your family.
Why do you charge for Spectator passes?
Spectator passes are discounted tickets which allow non-riding public into the park. Spectator passes can only be used on rides in Kidz Kingdom when supervising a child, provided an adult seat exists on that ride. Almost all international theme parks require guests to purchase full riding tickets to enter their premises, regardless of whether they are utilising rides or not. However, as New Zealand's only theme park, we decided that providing the option of spectator passes would be a better way welcome people into Rainbow's End. Although spectators may not be able to use rides, they do use utilities such as bathrooms, food outlets and condiments, area space, entertainment offerings and more.
Safety is also a major priority for us. Ticketing all visitors allows us to control and count the number of guests we have every day, ensuring that we can maintain comfortable crowd levels at all times. Paid tickets improve our safety and security by allowing us to remove walk-ins and keep some kind of record of individuals coming into the park.
Rainbow's End is not Government or Council funded like other attractions in Auckland. Our tickets reflect the reality of running a business with over 20 attractions across more than 7 acres, whilst keeping it maintained to strict industry and council standards. All of our pricing is indicative of the costs of maintaining such an iconic tourism landmark, along with employing nearly 300 talented staff who are here for the safety and comfort of all of our guests - including Duty Managers, grounds persons, entertainers, cleaning teams, administration and much more.
There are many scenarios where we provide free Spectator passes such as Birthday Room Party bookings, select group visits and large events where children need to be supervised.
We provide off-peak spectator passes for only $10 per visit on weekdays during term-times and run many promotions throughout the year to make visits to Rainbow's End more affordable.
Why can't I bring external food in anymore?
The change to our food policy became necessary due to ongoing issues with guest behaviour, and safety issues with BBQs.
While we have never allowed commercially made food in the Park we found increasing
instances where guests were abusing the opportunity by bringing food from other businesses
under the guise of bringing home-made food. We also found Guests were utilising our hospitality condiments and merchandise without paying and taking up seating areas at the expense of paying cafe guests.
In both instances guests were bullying and abusive to our staff when wanting to bring in commercial takeaways, or when asked to pay for the condiments they used. Unfortunately as guests became increasingly abusive to staff we decided that a clearer policy was required.
To support this decision we have recently made significant changes to improve the range of birthday options to provide good quality, good value food. This policy aligns to other entertainment offerings such as Cinemas, Butterfly Creek, sporting and big events that do not allow outside food in the venue.
We have picnic tables outside of the main entrance guests may leave the park to enjoy food from home or other businesses. In those instances we ask that you keep any wristbands or hand stamps intact for re-entry.
If you have a birthday room package, you may bring a birthday cake into the park (this applies
to the room package only).
Do you have Night Rides?
We have Night Rides on selected dates during the year. As soon as the details for a series are out, you'll be able to find them on our Night Rides page.
What should I wear to Rainbow's End?
Enclosed footwear is recommended for all rides. Closed non-slip footwear is recommended at all times in the park. Wear comfortable clothes and make sure you dress for the weather.

How do I report lost property?
If you have lost property at Rainbow's End and you are still in the park, please report this to our Guest Services team at the front gate. If you have left the park please email us with a description of your lost item and we will try to track it down for you!
How can I download my photo?
If you purchased a photo at one of our park photospots it will have a download code in the corner. Just enter your code here to get the digital copy.

Do you have lockers, prams, water fountains, ATMs, parents rooms etc?
Take a look at our facilities for more information about what we have at Rainbow's End
I would like to work at Rainbow's End, are there any jobs available and how would I apply?
Find out what it's like to work at Rainbow's End and how to apply on our recruitment page.
How do I apply for sponsorship from Rainbow's End
Requests for support are received from schools, groups and clubs throughout New Zealand which we assist through sponsorship. To apply for sponsorship for your event please complete our Sponsorship Application form here.
Where can I find out more about the history of Rainbow's End?
Since 1982 New Zealand's premier Theme Park has been delighting family and friends with the biggest and best rides in town. Rainbow's End started with a set of bumper boats and a big dream in the middle of 7.3 hectares down the end of the Southern Motorway. Thirty-eight years later we have built over 20 rides and attractions, and are still chasing the rainbow with new developments. Rainbow's End is one of Auckland's favourite places to escape from the everyday and experience thrilling moments with loved ones, creating special memories and traditions. Find out more about our history.

Who are the theme park characters?
Meet our park characters here.