Sponsorship
Rainbow's End is proud to have the opportunity to assist many organisations and individuals within our community. Since our opening, Rainbow's End has been a supporter of charitable organisations, community groups and people facing difficult times in their lives. In a small way we have been able to give a little joy and respite to people facing difficult circumstances, which has been extremely rewarding.
Requests for support are received from schools, groups and clubs throughout New Zealand which we assist through sponsorship. To apply for sponsorship for your event please complete our Sponsorship Application form.


---
Rainbow's End is proud to support:

Practical, emotional and financial support. Ongoing assistance is given to children and their families who have been affected by this life threatening illness.

Has a mission to help the families of children with life-threatening illnesses by providing a 'home away from home'.

Educational and recreational programmes are used to support, develop and empower young people living with cancer.

Through research, their mission is to save many young lives and improve the quality of life for thousands of children.

Has an aim to prevent youth from becoming offenders or victims of crime by running activities and programs that build relationships with the community.

Has a vision to grant the wishes and provide hope, strength and joy to children with life threatening medical conditions.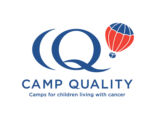 Dedicated to bringing fun, hope and happiness to the lives of children living with cancer.