Recruitment
Rainbow's End is a fun place to work, where employees are valued. We seek to support and inspire our team with great leadership and the right training and development programmes so everyone is happy and confident at work. Teamwork and fun are strong values at Rainbow's End.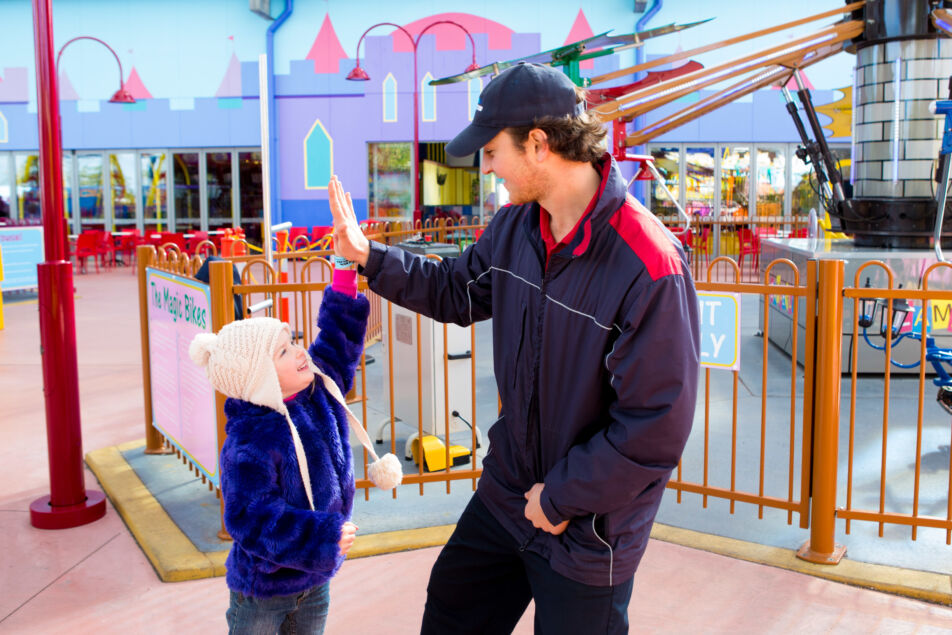 WHY JOIN RAINBOW'S END
1. EMPLOYEE BENEFITS
We realise that good benefits will help to build a strong working relationship with our employees and also give them an enhanced sense of security and belonging, all of these things help us to retain our highly valued employees. We realise the importance of coming together as a unified organisation and every few months organise a social event that allows our employees to catch up with what's happening, share the latest news, celebrate our accomplishments, and sometimes just to have a good time.

Some of the benefits we offer our employees are:
Training and development (personal and professional).
Award winning reward and recognition programme. (Employee of the month)
Staff social events
Team building events
Staff discounts at food outlets
Social club
Hamper at Christmas time
Free entry for all staff members when not working
Passes to Rainbow's End for friends and family
Long service awards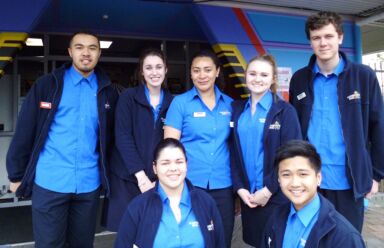 2. Our commitment to our employees
To create inspiring work that makes employees happy and proud of what they do.
To provide opportunities for employees to be at their best.
To build relationships based on shared values.
To build an environment where all employees contribute, make a difference and can be themselves.
3. Work conditions
Work can be part-time or full-time.
Rosters include weekends and some night functions, particularly in the summer period.
We employ staff year-round or to cover shorter school holiday periods.
You may be required to work outdoors in noisy and fast-paced environments.
Some roles require you to stand on your feet for long periods in cold, windy and hot weather.
You must be able to remain focused on the job while dealing with interruptions from guests and/or other employee contact.
You must be willing to conform to Rainbow's End grooming and personal hygiene requirements and wear the proper issued uniform including a name badge. A neat, clean, professional appearance is required at all times.
4. Training and Development
We are particularly proud of our training and development programmes which reinforce the value we place on the personal and professional growth of our employees.
We recognise that for the majority of people we employ, working at Rainbow's End will most likely be their first working experience and therefore it is necessary for us to spend time to develop workplace skills, knowledge and behaviours that will allow them to be successful in the workplace – for example, team work, interpersonal communication and timekeeping.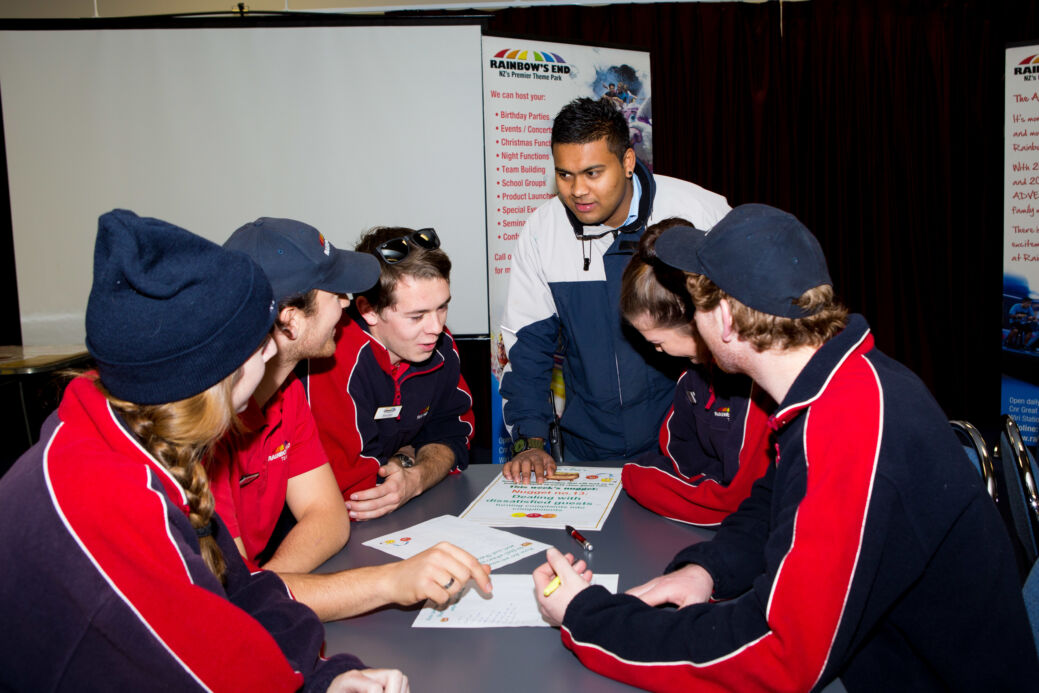 Our training actually begins at the interview stage where we clearly outline our expectations of employees by presenting our mission statement and our strategic intent, and explaining what role they will have to play in helping Rainbow's End to achieve them.
In house training:
Induction Day – learning what it takes to be successful at Rainbow's End.
"52 Nuggets" (weekly training topics that will lead us to achieving our strategic intent to deliver world class guest care).
Food Safety (Auckland Council approved course).
Armed Hold up Awareness
Sales training
Customer service training
Departmental job specific training
Refresher training
Induction
All new employees are required to attend an induction. This is an official welcome to Rainbow's End and will provide you with core knowledge about the nature of work and our workplace organisation, such as health and safety procedures, the service we provide, and an understanding of our workplace culture.
Our induction is a fun and interactive and will give new employees a taste of the Rainbow's End culture. Induction topics:
Welcome to the team: Who's who at Rainbow's End.
About Rainbow's End: What we do here, interesting facts and figures, our mission statement and strategic intent.
Rainbow's End is a great place to work: staff benefits, and our culture.
Customer service skills: The skills required to provide world class guests care.
The rules: What it takes to be successful here, code of conduct and consequences.
5. 52 Nuggets Training Programme
We have realised that it's not enough for our employees to only be trained in the technical skills that are required for them to do their jobs, in order for us to be able to achieve our strategic intent of delivering World Class Guest Care our employees also need to develop the softer, interpersonal and relationship-building skills that will help them to communicate and cooperate effectively with guests and co-workers. These are all transferable skills that will be of value to each employee throughout their working careers. Some of the topics in this programme are: appearance, attitude, first impressions, team thinking, communication skills, personal excellence, assertiveness, assisting guests with special needs,cCultural awareness, goal setting and motivation.
These training sessions give the participants the opportunity to share perceptions and experiences and to make decisions together. Through team work and cooperation, our employees gain skills in oral communication, collaboration, and problem solving and conflict resolution - skills that our employees will need to interact appropriately within the workplace as well as advance to new positions and responsibilities.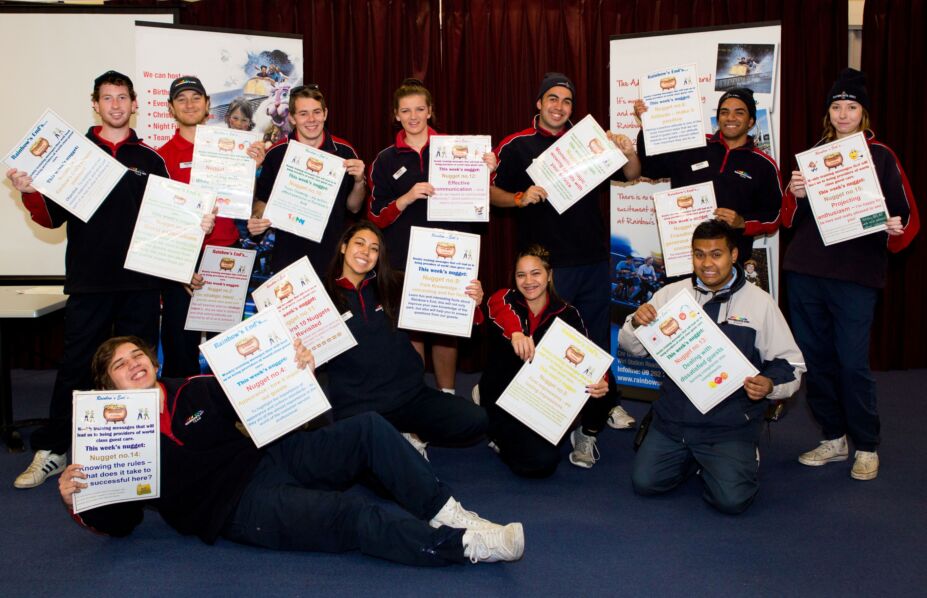 6. Employee Safety
We take our responsibility to provide a healthy, safe, and an enjoyable workplace for all our employees seriously.

We are committed to providing a safe environment for not only guests but also for employees. We recognise the importance in managing risk and we work to provide an environment which reinforces our employee's attention to being part of a safety culture. Visual anchors/ signs, on safety topics that are introduced in our training programmes are placed strategically in the staff workplace environment to reinforce a safety culture. A rewards system operates to encourage employee participation in reporting hazards.
We are proud to be a drug and alcohol free work place with pre-employment drug testing and random drug testing. We have 'zero tolerance' towards employees being under the influence of drugs or alcohol that can impair duties while at work.
Go to application information.