Apply Now
THE APPLICATION PROCESS
Applying for a job at Rainbow's End
Profile of successful applicants
Induction Day
The Application Process
1. Applying for a Job at Rainbow's End
There are two ways of sending your application form to the recruitment team at Rainbow's End.
Email - your application form and resume to: info@rainbowsend.co.nz; or
Post - your application form and a copy of your resume to:
Private Bag 76-924
Manukau, 2241
Auckland
You can download the printable PDF version of the Employment Application here. (size is only 120kb).
2. Profile of Successful applicants
To be successful, applicants will be:
Friendly and outgoing, and demonstrate the ability to work with people of all ages and different backgrounds.
Able to consistently demonstrate a high level of customer service.
Able to deal with many guests each day in a positive and friendly manner.
Able to communicate effectively in a professional manner with co-workers, supervisors, and guests.
Able to follow verbal and written directions.
Able to follow safety practices and be safety conscious.
Able to work effectively independently as well as within a group.
Able to learn, comprehend, and enforce Rainbow's End policies and procedures.
Able to handle stressful situations in a calm, professional manner.
Able to handle minor complaints and suggestions from our guests in a calm and professional manner or seek additional assistance from a supervisor when necessary.
Able to maintain a positive energy and attitude by being friendly, enthusiastic, and confident.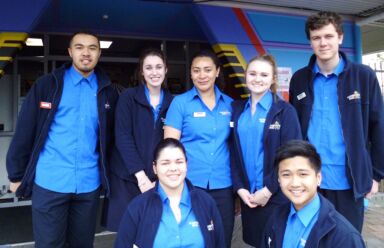 3. Induction Day
All new employees are required to attend an induction day. This is an official welcome to Rainbow's End and will provide you with core knowledge about the nature of work and our workplace organisation, such as health and safety procedures, the service we provide, and an understanding of our workplace culture.
Our induction day is a fun and interactive day that will give new employees a taste of the Rainbow's End culture of teamwork and fun.
Induction day topics:
Welcome to the team: Who's who at Rainbow's End.
About Rainbow's End: What we do here, interesting facts and figures, our mission statement and strategic intent.
Rainbow's End is a great place to work: staff benefits, and our culture.
Customer service skills: The skills required to provide world class guests care.
The rules: What it takes to be successful here, code of conduct and consequences.