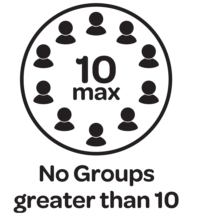 BIRTHDAY ROOM BOOKINGS IN LEVEL 2
To support good physical distancing, only small bubbles may enter the park in Level 2.
This impacts Birthday Room bookings, which may have only 10 guests max, including Spectators.  
 The LEVEL 2 Birthday Room Package 
Requires the booking of 5 children on either a Kidz Kingdom or Child Superpass  
A Birthday Room meal package must be brought for the children
Each child will get 1 free Spectator pass to accompany them. 

As groups must be 10 or less,  if you have more than 5 children,  less Spectators will be processed. 

No other tickets can be added on to the booking once the group hits 10.

Birthday bookings are confirm,ed with payment of a $200 Deposit.  
The number of available sessions has been reduced to ensure enough time for additional sanitation procedures between guests.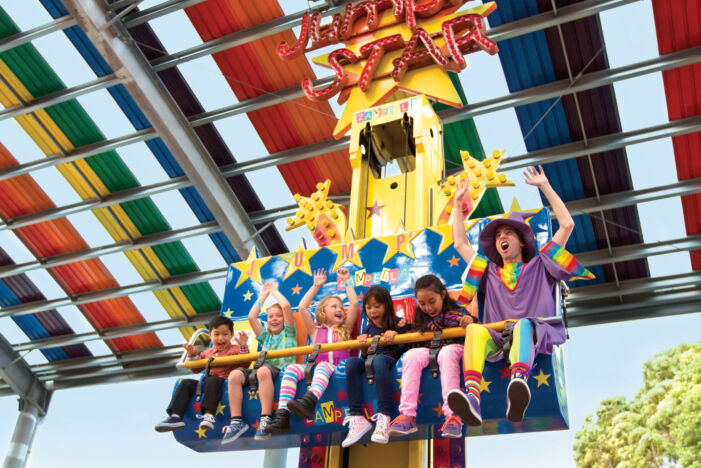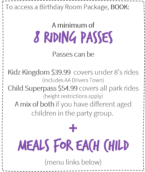 ...AND YOU WILL GET
90 minutes in an exclusive birthday room:
Birthday Room Themes And Times
ONE FREE ADULT SPECTATOR PER PAID CHILD*
TWO FREE SPECTATORS FOR THE BIRTHDAY CHILD*
*All children at Rainbow's End must be supervised by an Adult, and as all entry is ticketed, Adults need either a Spectator or a Superpass (Riding Pass). On peak days like weekends, Spectators usually cost $19 per adult.
A Rainbow's End birthday badge
for the birthday child
A "Happy Birthday" message
on our large electronic sign on Great South Road
---
HELPFUL GUIDES :
Want to know what the rooms look like? Birthday Room Themes And Times
Not sure what riding passes to get? Height is the big consideration, as it determines what rides they can safely ride, and whether they will need to be accompanied by an adult on a ride: What Riding Passes Should I Get For The Kids
With no external food allowed in the park, once you've picked the meal package for the kids, how about some platters to cover the adults? Check out our Birthday Catering

Want to know how to get your room bond back, and how long it will take? Room Bond Checklist How To Get Your 50 Bond Back
Other Conditions & Notes:
DEPOSITS & BONDS:

Bookings are confirmed upon receipt of a $200 Deposit:
$150 non-refundable, non-transferable deposit, which will be used against your total booking cost.
$50 Room Bond which is returned after your event, if room terms are met. The room bond can be paid at the gate before going into the room.
When you arrive for your booking your birthday host will give you your bond checklist to complete and hand back to them at the end of your party: Room Bond Checklist How To Get Your 50 Bond Back
---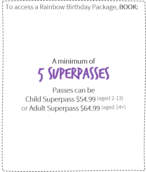 ...AND YOU WILL GET

A FREE unlimited ride Superpass
for the birthday child
While a Superpass unlocks rides in the whole park, height and age restrictions are in place for your child's safety.
Check out our height guide for more detail: What Can My 8 To 16 Year Old Ride
A RAINBOW'S END BIRTHDAY BADGE
for the birthday child
A "HAPPY BIRTHDAY" MESSAGE
on our large electronic sign on Great South Road
---
RAINBOW BIRTHDAY CONDITIONS
This package can be purchased for guests 8-16 years old.
To access the free superpass, other passes must be a full price, family and other discount rates do not apply.
These packages are available on any day that we are open, but must be pre-booked, and proof of birthday is required at entry.
Bookings must be made at least three working days in advance.

You can book 3 ways:
Online here

Online bookings will be required to pay a deposit by credit card. We will then contact you to confirm details within 24 hours on a weekday or the next working day on weekends or public holidays.

By email
By phone on 09 262 2030