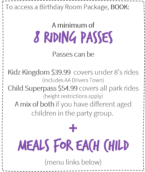 ...AND YOU WILL GET
90 minutes in an exclusive birthday room:
ONE FREE ADULT SPECTATOR PER PAID CHILD*
TWO FREE SPECTATORS FOR THE BIRTHDAY CHILD*
*All children at Rainbow's End must be supervised by an Adult, and as all entry is ticketed, Adults need either a Spectator or a Superpass (Riding Pass). On peak days like weekends, Spectators usually cost $19 per adult.
A Rainbow's End birthday badge
for the birthday child
A "Happy Birthday" message
on our large electronic sign on Great South Road
---
HELPFUL GUIDES :
Want to know what the rooms look like? Birthday Room Times
Not sure what riding passes to get? Height is the big consideration, as it determines what rides they can safely ride, and whether they will need to be accompanied by an adult on a ride: What Riding Passes Should I Get For The Kids
Don't forget that birthday room meals are an additional cost to ticket prices. With no external food allowed in the park, once you've picked the meal package for the kids, how about some platters to cover the adults? Check out our Birthday Catering, which must be confirmed by 12pm the Thursday prior to your event.

Want to know how to get your room bond back, and how long it will take? Room Bond Checklist How To Get Your 50 Bond Back
Other Conditions & Notes:
The Birthday room package is only for children 8 and under.
DEPOSITS & BONDS:

Bookings are confirmed upon receipt of a $150 deposit:
$150 non-refundable, non-transferable deposit, which will be used against your total booking cost.
$50 Room Bond will be added to the booking which is returned after your event, if room terms are met. The room bond can be paid at the gate before going into the room.
When you arrive for your booking your birthday host will give you your bond checklist to complete and hand back to them at the end of your party: Room Bond Checklist How To Get Your 50 Bond Back
---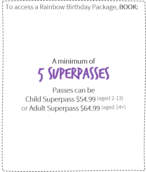 ...AND YOU WILL GET

A FREE unlimited ride Superpass
for the birthday child
While a Superpass unlocks rides in the whole park, height and age restrictions are in place for your child's safety.
Check out our height guide for more detail: What Can My 8 To 16 Year Old Ride
A RAINBOW'S END BIRTHDAY BADGE
for the birthday child
A "HAPPY BIRTHDAY" MESSAGE
on our large electronic sign on Great South Road
---
CATERING:

Rainbow Birthday guests can order from the birthday platters menu and collect from Playlab Cafe. Orders must be prepaid by 2pm the Thursday prior to your visit.
RAINBOW BIRTHDAY CONDITIONS
This package can be purchased for guests 8-16 years old.
To access the free superpass, other passes must be a full price, family and other discount rates do not apply.
These packages are available on any day that we are open, but must be pre-booked, and proof of birthday is required at entry.
Bookings must be made at least three working days in advance.

You can book 2 ways:
Online here

Online bookings will be required to pay a deposit by credit card. We will then contact you to confirm details within 24 hours on a weekday or the next working day on weekends or public holidays.

By email
Birthday Room packages need to be confirmed by 2pm the Thursday prior to the party weekend. We are unable to take last minute bookings.

CELEBRATING AT HOME?
Let us help! Our $99 Click and Collect birthday packs feature sweet and savoury treats for 4, balloons, hats and plates, plus some very special call outs for the birthday child to make them feel really special. Vegetarian option is available
Why not add a special treat from Rainbow Retail while you're at it? BOOK NOW