riding safe
Safety is a core value for Rainbow's End and guides what we do every day.
We have an extensive team of highly trained technicians, engineers and attendants who are dedicated to keeping our rides and attractions running safely.
Everyone in the park has a role to play in ride safety, including our guests. Read on to find out how we deliver safe thrills, and what you need to do in park to ensure it's a safe and enjoyable day for everyone.
If your organization requires visibility of our RAMS form before visiting, click here


---
Independent Inspection
We work with qualified industry experts to ensure our attractions exceed international industry regulations.
Our rides are inspected annually by an independently certified ride inspection body.

---
Intensive Preparation 
Our technicians test every ride using rigorous standard operating procedures daily before Guests enter.
Daily checks are additional to weekly, monthly and annual maintenance to keep rides in tip top shape. 

---
Training
Our ride operators go through 100 hours of supervised training before they can operate rides. 
Our big 5 rides are only attended  by senior attendants with a minimum of 2 years' experience. 

---
Safety Systems
Many of our rides are monitored by sophisticated computer systems that monitor the safe operation of rides at all times. 

---
Experience and Heritage
With over 38 years experience, we have delivered millions of rides to millions of guests, and completed hundreds of thousands of training and inspection hours.   

---
Knowledge and Values
Weekly safety modules, plus regular safety drills and exercises ensure our team are ready to oversee safety standards safely and effectively. Safety is a core value and underpins everything we do. 

---
Stoppages and Outages:

Stoppages can be scary and frustrating, but are a key safety feature, helping keep you safe while riding. 
A ride will stop automatically if any of the hundreds  of sensors on the track are obstructed , even if it is just rain.
There are other common reasons why rides stop:
Guests using cameras and mobile phones during rides
Guest illness
Lost property within a ride area
Weather conditions
Weather conditions like high wind or rain can impact our ability to operate a ride safely, and may mean our engineers recommend a temporary closure for your safety. 
IS IT RAINING? 
Then we may need to temporarily close Scorpion Karts, Family Karts and Invader;
ARE THERE HIGH WINDS?
Then there may be temporary closures of  tall rides such as the Stratosfear, Fearfall, Powersurge, the Coaster. A 30kph wind forecast at sea or ground level can double or triple by the time it gets to the top of a 150 ft attraction! Direction can also make a difference.
We don't like closing rides and reopen as soon as ride sensors and our technicians show it's safe to do so. 
When the forecast shows that there is a risk of ride closures during the day, we will have signs at gate and advise you on entry so you can decide if you want to come in under those conditions, or return another day.
When you're visiting the park you have a role to play in ensuring everyone has a safe, enjoyable day in the park...

Always check the ride rules before you hop on a Rainbow's End ride.
Guests acting irresponsibly and not following the ride rules or attendant instructions put themselves and others at risk, and will be asked to leave the park.
Each ride has rules unique to that ride, but there are some common rules for all rides: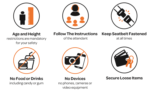 Some of our rides are fast, or have sudden drops, shudders, twists and motions that can be harmful for the following conditions.
We recommend those with healing bones and sprains save their visit for when they are healed. Broken bones and inflammation don't go well with G-Forces!

Many of our new attractions such as Spectra 7D Theatre, our Escape Room and Virtual Reality are intensely sensory, immersive experiences which can be a trigger for some people. Participate with caution, and avoid if you have any of the following: