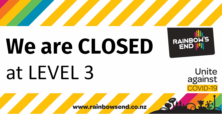 Rainbow's End will be closed at Level 3 from MIDDAY WEDNESDAY AUGUST 12, until at least FRIDAY AUGUST 14.
It is highly likely this closure will extend to Saturday 15th and Sunday 16th.
This is in-line with new Government directives for closure of non-essential services and renewed distancing and isolation recommendations.
We will use this time to continue working through our health and safety activities, ready for when Government and Ministry of Health guidance shows we can open safely.
Based on current Alert Level information, we believe we can meet necessary precautions to keep our team and guests safe at Level 2.
The Government will provide an update on alert level status on Friday April 14, check our website or social channels for what this means for safe access to Rainbow's End.

For more information on Covid-19, we recommend visiting the COVID-19 OFFICAL NZ GOVERNMENT SITE or Ministry of Health for reliable and up to date information and recommendations for keeping yourself and your loved ones safe from Covid-19.
Stay safe and well everyone!
Ka kite ano x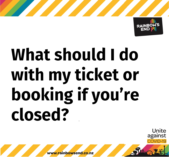 At this stage:
We will definitely be closed Friday the 14th
It is highly likely that closure will extend to Saturday 15th and 16th, but we cannot confirm until Friday's update.
Online tickets for Friday 14th - Sunday 16th:
As an online ticket holder, you have two options:
Tickets can be used on another date: You have a least 30 days to use your ticket in another session, within the promotional terms of your ticket (for example, a half price Kidz Kingdom ticket may be used on another Friday in Term 3), and we will of course offer more extensions if closure is longer than anticipated.
Your tickets can be refunded: If this Friday to Sunday is your only option for visitation, refunds are possble.
Contact kirsten@rainbowsend.co.nz for online ticket refunds. Please include your ticket reference number in the email.
---
Group Bookings for Friday 14th - Sunday 16th:
You may:
Postpone your booking to another date,.
Cancel your booking, and receive a refund of any deposits.
Contact us at groups@rainbowsend.co.nz for either option.
---
Birthday Room Bookings for Friday 14th - Sunday 16th:

You may:
Postpone your booking to later date – we recommend at least 2 weeks out.
Cancel your booking, with full refund of deposit.
Contact us at birthdays@rainbowsend.co.nz for either option.
When making your decision keep in mind that we will not know if we can open this weekend until Friday. If Auckland does move from Level 3, it will likely be to Level 2 where increased social distancing and hygiene measures will be required, and mixed bubble birthdays in Enclosed Birthday Rooms may not be advised.
---
Grab One:
Customers who hold current vouchers have plenty of time on current ticket expiry. We will review expiry if Level 3 restrictions extend beyond 2 weeks.
If you need a refund on your Grab1 ticket, or have any other enquiries, please contact Grab1 Returns returns@grabone.co.nz